Welcome to the complete Squarespace vs Big Cartel e-commerce builder comparison.
Picking the best eCommerce builder for your online store is a tough decision. It's even harder when you consider the many excellent options available. How do you know the right one for your business? And even if you narrow it down to 2 options like Big Cartel and Squarespace, which one do you go for?
To help you out, we've done the hard work and compared 2 of the biggest eCommerce builders side by side: Big Cartel and Squarespace. Every platform has its strengths and its weaknesses and in the case of Squarespace and Big Cartel, they're both designed to satisfy different needs. Squarespace, for example, is primarily a website builder that provides eCommerce functionality but Big Cartel is a solution for eCommerce stores alone.
Naturally, this would mean that their target audiences would vary. So before going for one of them you have to be certain that your brand's needs are in tandem with the target audience the platform creates solutions for.
Squarespace, for instance, aims to provide an all-rounded experience and sophisticated eCommerce features, which makes it the perfect choice for small and medium scale full-time online businesses. Big Cartel, on the other hand, primarily targets hobby sellers, particularly artists. So depending on the purpose of your online store, your preferences and value for the features offered by each will differ.
We've run through each builder carefully and listed out their eCommerce features, pros and cons, ease of use, website design, marketing, and website features, pricing and transaction fees, customer support, and lots more.
Squarespace vs Big Cartel: Overview
Let's have a brief overview of both Big Cartel and Squarespace. This will help bring some clarity into why they offer certain features and give you a general understanding of the platforms.
Squarespace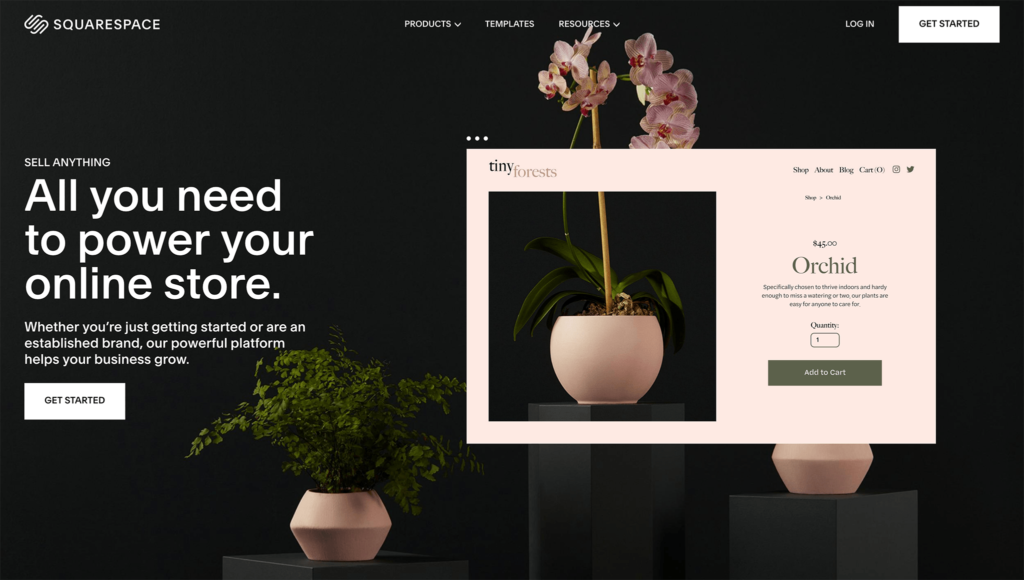 As already stated Squarespace, with over 4.086 million subscriptions, was primarily created as a website builder but they offer Squarespace Commerce as part of their solution. Squarespace Commerce is a perfect choice for online businesses that want to build and manage a state-of-the-art store. The platform is generally easy to use and features a huge selection of functionalities as well as permits unlimited product inventory.
You can view Squarespace Commerce as a professional eCommerce builder. As a user, you will have access to tons of powerful features including unlimited storage and bandwidth, analytics tools, a library of aesthetically compelling professional templates, and POS.
Squarespace Commerce is a completely hosted solution, which means you don't have to bother about handling or managing any backend task. That said, while Squarespace offers a great platform and feature set, their editor may take a little getting used to and you may notice a couple of limitations with regards to integrations permitted.
So Squarespace Commerce is the perfect eCommerce platform for full-time online businesses that combines an easy-to-learn user interface with the ability to use more advanced features such as discounts and promotions, theme editing, and POS.
Big Cartel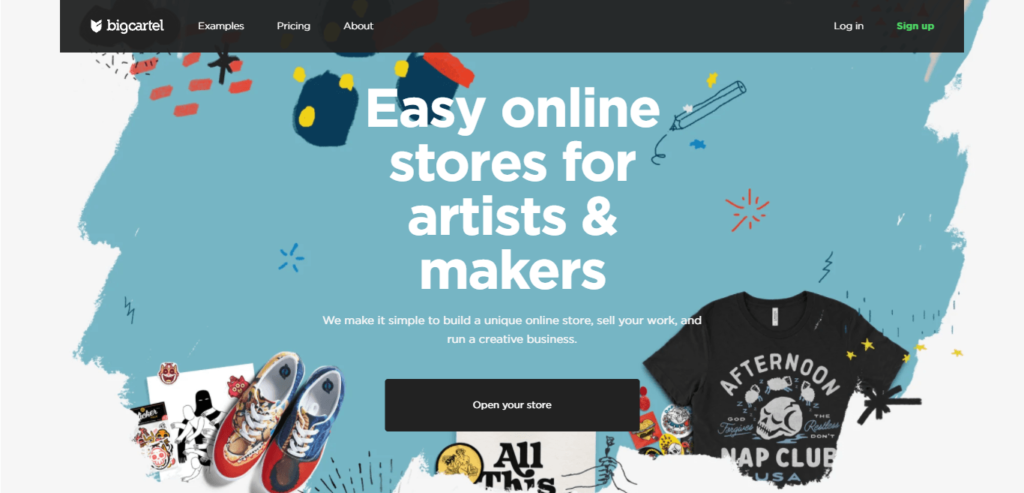 Big Cartel is a completely hosted eCommerce solution that was created especially for small-scale creatives. If you intend to sell original creations like jewelry, refurbished furniture, woodwork, and art then Big Cartel is a perfect choice.
The platform provides functionality and a general look that is straightforward and minimal but this doesn't mean that Big Cartel skips quality for support or features. As a user, you will have access to comprehensive and in-depth eCommerce tools inclusive of promotional features, social media (like Facebook and Instagram) platform integration, and payment gateways. It is also fairly priced for small-scale creative businesses with its plans starting at $10 per month and also including a forever free option.
But if you are a retailer who wants more than a couple of hundred product listings and an even more powerful feature set then you may want to opt for another solution, as Big Cartel is primarily focused on small-scale businesses. So generally speaking Big Cartel would be your best pick if you are creative with an inventory of less than a couple of hundred products and are searching for a cost-effective and hassle-free solution.
Squarespace vs Big Cartel: Pros and Cons
Regardless of how great these two eCommerce platforms are, every solution has its advantages and disadvantages, so will be looking at that in this section:
Squarespace Pros and Cons
Pros 👍
While it may take getting used to Squarespace Commerce offers an easy-to-use management dashboard and website builder.
Squarespace allows unlimited products for your inventory.
With Squarespace, you get access to professional and stylish themes that are known for aesthetic beauty.
Squarespace provides powerful website features that will aid in boosting your online store.
Squarespace features some amazing eCommerce capabilities like providing analytical tools and a powerful inventory system.
Cons 👎
Squarespace has limitations with the number of permitted integrations.
This website builder only offers promotion features on its top plan.
Squarespace includes a 3% transaction fee so you will have to upgrade to a plan that does not include the 3% fee if you want to avoid it.
Squarespace presents a steep learning curve, so it may take you some time to get a handle on the editor.
Big Cartel Pros and Cons
Pros 👍
Big Cartel offers a gorgeous and artistic collection of professional-looking themes.
This eCommerce builder allows you to set up your online store in a couple of minutes.
Big Cartel is easy to use and highly intuitive.
Big Cartel allows you to sell without cost as it has a free plan, unlike Squarespace.
Big Cartel is great for hobby stores and ideal if you sell individual creation pieces or a small inventory.
The on-boarding process is quite straightforward as you just need to follow the helpful tips and reminders for a seamless setup
Cons 👎
While Big Cartel offers a robust set of features most of them are limited in functionality.
Bigcartel puts a maximum limit of a couple of hundred listings even on their premium plan.
It's tough to customize without knowing how to code.
Big Cartel isn't as easy to use as it looks. You may need a little bit of coding knowledge to get your store to the next level.
Big Cartel offers very basic templates and while they are not terrible they don't compare to what Squarespace offers.
Squarespace vs Big Cartel: Pricing and Value
Regardless of the amazing features that these powerful eCommerce builders offer, if they cost way above your budget for a builder, then it will mean nothing. Also, even if it's within your budget you have to be sure that you're getting the right value for your money.
It doesn't get better than the assurance that you're getting quality value for your cash. And when it comes to choosing an eCommerce builder this is especially true. You have to ensure that it is a great return on your investment even from the get-go.That said, let's look at the pricing options in this Squarespace vs Big Cartel comparison.
Squarespace Commerce Pricing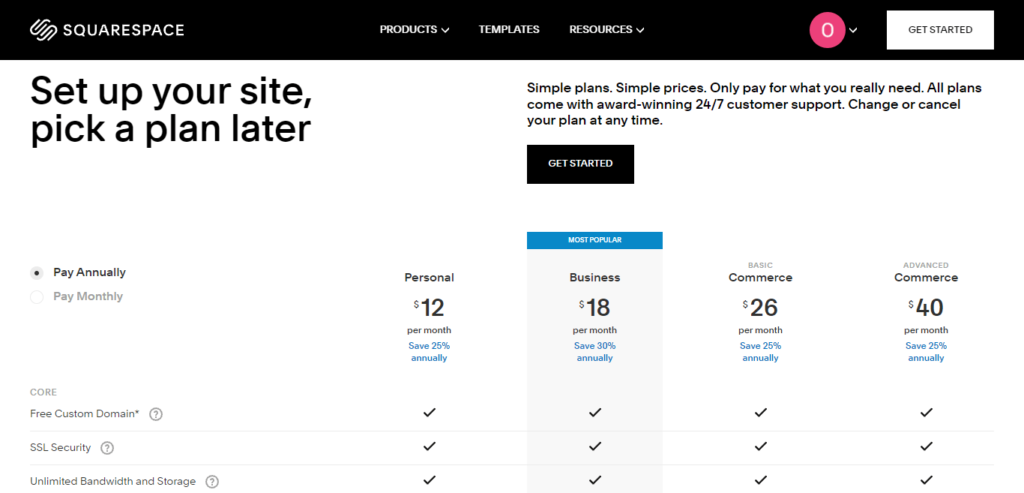 Squarespace does not offer a free plan like Big Cartel. But Squarespace's eCommerce plans come in the following packages:
Basic Commerce Plan
The Basic Commerce plan costs $26 per month and offers a 25% discount if you decide to pay annually. The features that this plan offers include the following; SSL security, a free custom domain, SEO features for website visibility, unlimited storage and bandwidth, templates that satisfy every need from portfolios to blogs, mobile-optimized websites, Squarespace extensions, basic website metrics, 24/7 customer support, premium integrations and blocks, complete customization with JavaScript and CSS, and a professional Google email.
The eCommerce features of this plan include the following: promotional banners and pop-ups, advanced website analytics, gift cards, fully integrated eCommerce, $100 Google ADs credits, accept donations, zero commerce transaction fees, sell unlimited products, powerful eCommerce analytics, checkout process on domain, Point of Sale, tag products on Instagram, and access to powerful merchandising tools.
Advanced Commerce
The Advanced Commerce plan by Squarespace costs $40 per month and offers a 25% discount if you choose their annual payment option. The general features of this plan include a free custom domain, SSL security, SEO functionality for website visibility, unlimited storage and bandwidth, unlimited contributors, templates that satisfy every website need, basic website metrics, 24/7 customer support, Google professional email, premium integrations and blocks, Squarespace extensions, complete customization with JavaScript and CSS.
The marketing features include advanced website analytics, $100 in Google ADs credit, promotional banners and pop-ups, Squarespace video studio app. The strictly eCommerce features include zero commerce transaction fees, the ability to accept donations, Point of Sale, fully integrated eCommerce, gift cards, sell unlimited products, checkout process on your domain, powerful merchandising tools, powerful eCommerce analytics, abandoned cart recovery, advance discounts, commerce API, sell subscriptions, limited availability labels, advanced shipping, and tag products on Instagram.
Big Cartel Pricing 
Here are the pricing options from Big Cartel:
Free Plan
The Free plan is just like its name, free. It costs nothing and doesn't even require a credit card to sign up. Some of the features included in the package are 1 image for each product, real-time statistics, product option groups, shipment tracking, use of a custom domain, sales tax autopilot, free customizable themes, the ability to both sell in-person and online, and run promos and offer discounts.
Platinum Plan
The Platinum plan costs $9.99 per month and can cater to 50 products in your inventory. There are also no listing fees associated with this plan. Some of the features of the Platinum plan include 5 images for each product, real-time statistics, use of a custom domain, Google Analytics, bulk editing, sales tax autopilot, shipment tracking, inventory tracking, theme code editing, free customizable themes, sell in-person and online, run promotions and offers discounts, and product option groups.
Diamond Plan
The Diamond plan costs $19.99 per month and can cater to 500 products in your inventory. There are also no listing fees associated with this Big Cartel plan. Some of the major features of this plan include 5 images for each product, real-time statistics, free customizable themes, theme code editing, Google Analytics, the ability to run promos and offer discounts, bulk editing, sales-tax autopilot, shipment tracking, product option groups, use of a custom domain, sell in-person and online, inventory tracking and theme code editing.
Big Cartel aims to have pricing plans that fit into all types of budgets. If you are just starting with limited or no capital you can opt for the free one. Or if you are a small business, the middle tier (Platinum plan) works fine. For medium-scale businesses with some sort of establishment, the Diamond plan is the perfect fit.
Squarespace vs Big Cartel: Ease of Use
There are two major aspects with regards to ease of use: the getting started the process and managing your store after setup. We will use these 2 aspects to determine the ease of use of both Squarespace and Big Cartel.
Squarespace: Getting Started 
Starting with Squarespace is a lot less straight to the point. Once you pick your desired template, Squarespace shows you a quick Gif-like tutorial pop-up, and then you can view a setup checklist in the editor. But it's a lot more difficult to find out where the tools you need are and how to start editing. That said, in the long run, after the learning curve, Squarespace is a lot easier to use. So if you are new to website building, Squarespace comes off as a tad bit intimidating but if you make it through the initial stages, you can get familiar with it in a couple of hours.
Big Cartel: Getting Started 
In comparison to Squarespace, Big Cartel provides the most seamless onboarding experience. Once you choose your plan and input your details the platform will direct you to your dashboard using various prompts built to ensure that the setup process is very easy. Big Cartel feels very pressure-free and you don't have to guess about anything during the setup process.
Squarespace: Store Management 
After you get a handle on Squarespace's editor, you'll discover it's one of the simplest platforms to use available and provides an insane amount of creative control regarding your store's design. The truth is the more you use Squarespace the easier it becomes to navigate. The primary factor that makes Squarespace's commerce builder come on top concerning store management is that you can build aesthetically appealing websites in a matter of hours without any prior technical know-how or coding. Also, Squarespace offers a what-you-see-is-what-you-get (WYSIWYG) editor, which means that you can see your changes as they are made, so you have a reduced chance for error.
So, despite the initial steep learning curve, Squarespace is easy to use and straightforward when you make it through the initial process and figure out where each tool is. Also, it eliminates the requirement of knowing how to code to get the best out of its templates.
Big Cartel: Store Management 

Big Cartel isn't as straight to the point as it initially appears during the getting started the process. This is because Big Cartel requires a bit of technical know-how than you may expect at the initial stages. The templates it offers are very basic so if you intend to take your store to a professional level you'll have to know some kind of coding to enhance functionality. This can get frustrating for starters and even experienced designers, especially when you desire to have full control over the appearance of your online store. You can build your online store without knowing how to code but the result won't be as professional as what you would get with Squarespace's versatile templates. 
Squarespace vs Big Cartel: Design
Let's have a look at these two builders' design features.
Squarespace 
Squarespace is king when it comes to the beauty of its website designs. It's right there on the same level as the kind of templates you can expect from platforms such as BigCommerce with regard to design functionalities.
Squarespace offers a host of amazing templates that you can pick from and they all have the necessary functionalities for creating a compelling online store. Also, Squarespace separates its template by industry which means regardless of what you intend to sell to have a starting point.
That said, you can choose any template that you find appealing enough and then adjust it to satisfy your needs. Squarespace features a drag-and-drop editor that allows you to have an insane amount of creative control over your online store. You can pick and move elements with one 1-click and include additional pages. You can even easily change your colour schemes and fonts to align with your business and brand.
Every one of Squarespace's templates is image-centred which means if you don't have high-resolution visuals of your own, you can use them instead as Squarespace has a partnership with Getty Images. Most of these visuals are free but some require a tiny fee.
Big Cartel 

Big Cartel's templates designs in comparison to Squarespace may come off as a little basic or plain. The platform only offers a couple of templates that you can pick from and even though they have attractive and clean designs when compared to Squarespace's visually appealing layout they pale in comparison. And if you want to enhance the way they look, that's where it gets difficult. In fact, customization is restricted by the theme that you pick and the Big Cartel editor only permits you to make minute changes such as adjusting basic layout colours, font sizes, and logo.
If you want to do drastic changes to your online store then you have to get into the code of the theme which isn't the most user-friendly approach to online store customization.
What's more, Big Cartel unlike Squarespace does not offer templates that support product videos or product zoom. And since visuals play a huge role in the consumers' online buying decision, the lack of this feature may even affect your conversion rates.
That said, both Big Cartel and Squarespace permit users to change their themes whenever they choose. You don't have to bother about choosing the right thing at the get-go. If you find out later on that it isn't the best fit for your brand you can pick another one. However, Big Cartel will have to re-upload elements such as background images, though your products won't be affected.
Squarespace vs Big Cartel: Ecommerce Features 
With regards to the eCommerce features of both Squarespace and Big Cartel, the differences between them become obvious very quickly with Squarespace being the eCommerce website builder with a more in-depth list of features. That said, we will look at the important features that an eCommerce platform must have and see how each of these builders aligns with it.
Inventory 
The primary purpose of an online store is to offer and sell your products on your website. So you must ensure that you pick a builder that is capable of accommodating your products. Say, for example, you have 1000 products in your inventory, the builder that you choose has to be capable of catering to that number of items. Big Cartel faces limitations in this area and the number of products you can have displayed and sold is dependent on the pricing plan that you choose. For instance, if you go for the free plan, you can only sell 5 products but with the higher plans, you'll be able to sell up to 500 products. These restrictions are perfect if you run an online store as a hobby or side hustle but if you are full time into the eCommerce sphere it's a huge letdown.
Squarespace, on the other hand, provides enough space for unlimited products and even accommodates product variants. So you'll be able to feature products in different sizes and colours, which is a great function if you are in the fashion industry, for instance. There's even a function that allows your product variants to be shown to the customer as small thumbnails on the screen. This allows a customer to view all product variants on a single page.
Squarespace also features a content manager that enables you to organize and oversee your stock levels from one place. This is a great feature since you can add an unlimited number of items and a sizable range of product variations. It helps more control and organization.
That said, Big Cartel also features the ability to include different product variations. However, it does not allow you to show them as miniature thumbnail visuals on your product pages rather the customer will have to view them as drop-down lists. While this isn't as flamboyant it enables your lists to stay straight to the point and tidy.
Types of Products Permitted 
These days eCommerce goes beyond selling just physical products, brand's offer subscriptions, and digital products as well. Squarespace excels in this area as the platform provides you with all that you need to sell digital products from the get-go. It even allows you to sell services which is extremely useful if you are a SaaS brand or consultant.
Big Cartel, unfortunately, does not automatically support the sales of services or subscriptions, or digital products. If you intend to sell digital products then you must download third-party apps for this. While a couple of them go for no cost, most of them have monthly charges attached and this increases the overall budget for running your online store.
Taxes 
When it comes to eCommerce, taxes are a huge aspect to handle. But the great news is that Squarespace and Big Cartel offer functionalities that will help you out.
Squarespace permits users to create different tax rules for every location that they ship to. This means you can be certain that you comply with the local tax requirements of all such locations. You can even opt for a Squarespace extension like TaxJar to simplify things some more.
Big Cartel automatically calculates your tax as well, and even adjusts the consumer's total at checkout based on their location. This means you don't have to waste time and stress over complex tax equations to ensure that you get accurate numbers. However, this feature is currently only applicable to orders within the United States.
Cart Abandonment Recovery and Purchase Confirmation
Both Big Cartel and Squarespace are built to send automated purchase confirmations when you conclude a sale, the process is seamless and fast. They also allow you to send shipment notifications to your customers which enables them to track their order status.
Squarespace, however, goes the extra mile and provides abandoned cart recovery on its highest commerce plan. This implies that when a consumer begins the checkout process but does not complete it, via the platform you can send them an email that prompts them to return and finish their purchase. This is a powerful way of re-engaging indecisive consumers.
This feature isn't offered by big Cartel and that's a minus with regards to the platform's eCommerce functionality.
Integration with Social Media Platforms
These 2 builders feature social media integrations that let you share your products across a couple of social media websites and even tag your offers on Instagram.
Store Analytics
Your online store analytics (data) is one of the most vital aspects of ensuring success. For Squarespace, they satisfy all the necessary factors concerning analytics. They even have a custom analytics solution that allows you to track customer behaviour, track revenue, discover total conversions and orders. However, Squarespace does not feature stock monitoring alerts.
Big Cartel doesn't feature this ability but depends on third-party apps to offer analytics to users. If you are on one of its paid plans either Diamond or Premium, you'll have access to Google Analytics which you can use to gain accurate and powerful insights into your store's performance. What makes this a big loss for Big Cartel when compared to Squarespace is that the latter also allows you to integrate Google Analytics into your store. So with Squarespace, you have access to both custom analytics from the platform and Google Analytics which will help you get even more accurate and precise data.
Squarespace vs Big Cartel: Payment Options
Squarespace and Big Cartel both provide a couple of payment options to make the checkout process seamless for your customers. However, of the 2, Squarespace works with more payment gateways than Big Cartel does. But Big Cartel does not feature transaction fees even on its free plan, while Squarespace will charge you an additional 3% unless you upgrade to the Advanced Commerce plan or Basic Commerce plan.
Squarespace is compatible with the following payment gateways: PayPal, Stripe, Venmo, Apple Pay, Afterpay, and Square.
Big Cartel on the other hand is compatible with Square, PayPal, and Stripe.
Do Big Cartel and Squarespace Allow you to Sell Offline?
You may decide to take yourself offline and wonder if Big Cartel and Squarespace allow you to sell in real life. The great news is that both of these eCommerce builders allow you to accept payments in person.
You can do this with Squarespace using its Square integration. You would just have to download the Squarespace Commerce app and buy a Square card reader for an extra $49. You can even sync up with your web inventory so that whenever you make a sale your stock numbers automatically adjust to reflect it.
With Big Cartel you can receive offline payments through its mobile application which is available for both Android and iOS systems. Also with Stripe for Big Cartel, you can receive card payments and even include special offers and discounts to your pricing. The Big Cartel option for offline sales isn't as sophisticated as the one from Squarespace but it's perfect for small businesses.
Payment Process
When you use a third-party payment gateway most times the customer will have to leave your store to complete the purchase. This may be inconvenient and can make your checkout process very stressful. But with Squarespace the process is different. Your customers won't have to go to a different web page to finish off their purchase.
Big Cartel, unfortunately, doesn't provide this but if Stripe is available for you, customers that opt for Apple Pay can get Instant Checkout, which means they don't have to leave your page. Also, Big Cartel does not store customer data or provide the option to save payment options and details, meaning potential customers will have to input their details every time they intend to purchase.
Squarespace vs Big Cartel: Marketing Features
While you may just be interested in each platform's eCommerce features, it's important to know the marketing features of each of these builders as that is responsible for store growth. So we'll look at major marketing aspects and how these builders align with them.
Search Engine Optimization
Search Engine Optimization (SEO) is an indispensable part of running an online store. It is what is responsible for your website ranking high on search engines, which boosts your visitor numbers.
Squarespace handles SEO perfectly. The platform comes with a custom suite of built-in optimization functions, which are applied automatically to all of its websites. This handles the technical aspects of SEO such as meta tags, HTML markup, meta tags, and lots more. There's also an SEO checklist provided that assists you in ensuring that you're on the right track to improving your website's ranking, which is great if you're a fresher to the whole SEO thing.
Big Cartel also offers the same type of features. It automatically allocates alt tags for images and provides search engine-friendly URLs. But in comparison to Squarespace, you'll have to do a lot more to ensure that it has a valuable impact on your ranking. There's also no checklist like with Squarespace to aid you in the process.
Email Promotions
Squarespace provides custom software for email marketing. Just like its website templates, every one of Squarespace's email layouts is aesthetically pleasing and can be customized to fit your brand. There's a free 14 day trial for testing their email marketing feature but if you want a permanent plan then you need to pay. The cheapest email marketing plan costs $8 per month.
With Big Cartel you don't have access to a custom email solution, rather you need to use an app extension to get this ability. You can integrate Big Cartel to MailChimp for no cost.
Blog 
Squarespace permits you to attach a blog to your online store. The blogs are integrated into all its eCommerce templates. For Big Cartel, adding a blog to your store isn't as simple. There's no inbuilt offering, so you'll have to use a third-party app to include an app. A real bummer is that you may even have to know some code to link it up to your online store.
Squarespace vs Big Cartel: Customer Support
Except you've been doing this for years there is a huge possibility that you may face some roadblocks here and there when you try creating your online store. This means that your chosen builder's support feature is vital.
Squarespace is far ahead of Big Cartel with regards to customer support. The platform offers a massive range of solutions to help you get out of complex issues including email support and live chat. You can even reach out to them on Twitter. Squarespace does not offer phone support currently but taking into account the number of ways you can reach them directly this lack is inconsequential.
Big Cartel in comparison to Squarespace doesn't measure up, as the only available channel for customer support is through email. And this is only open Monday to Friday from 9 a.m. to 6 p.m. They may seem to offer live chat support due to the tiny box at the left-hand corner of your screen but that's an email line as well. The answers to the questions you post in there are sent right to your inbox a couple of hours later. So if you face problems beyond the set hours their email support is open, then you have to go to Big Cartel's help center. It is very easy and clear to navigate and it is extremely text-based. So, if you are a visual learner it may be difficult to understand and use.
Squarespace also offers a knowledge base and this is a great source of information as it features built-in video tutorials and written instructions. In comparison to Big Cartel's knowledge base, it's a lot more comprehensive.
Squarespace vs Big Cartel: Security
Squarespace and Big Cartel come out of the box with a free Secure Sockets Layer (SSL) certificate. This means that the connection between your website and browser is secure, and customers don't have to worry about their data becoming unsafe. If you run an online store, this is a must-have because your customers will input sensitive payment details when they want to make payment for an item.
Squarespace takes this seriously and runs regular scans across every one of its websites and also provides DDoS (Distributed Denial of Service) protection. This means Squarespace protects against competitors using bots to overwhelm a website by sending a spike of fraudulent traffic, which causes your website to crash, ultimately preventing your customers from accessing your online store. This is particularly horrible in eCommerce as downtime means no sales.
That said, with Squarespace an important feature to note is that it is completely PCI-DSS compliant (Payment Card Industry Data Security Standard). This implies that it satisfies all approved standards for companies that handle payment or credit card details.
Unfortunately, Big Cartel isn't PCI-compliant, which means that if you opt for the platform the responsibility of sticking to these guidelines is completely on you. This isn't just stressful but it increases pressure as well. Most eCommerce builders and platforms handle this for you, so you can focus on boosting sales and running your store.
Conclusion 
Squarespace and Big Cartel both offer eCommerce services but that doesn't imply that they are each capable of supporting and building the same kind of online stores. So the best choice for your business would be entirely dependent on the type of store you intend to build.
Squarespace, for example, is the best fit for small to medium-sized businesses or eCommerce agency that intend to scale. It's also great if you are searching for a visually appealing website that can host high-resolution images. Big Cartel, on the other hand, is best suited for independent creative sellers and artists that need a platform for custom products. This way its limited inventory capability won't be too much of a restriction. Plus, its free plan and cheap costs are great for people who are in the eCommerce space as a hobby.
Overall, Squarespace offers a lot stronger functionalities and is better for established or full-time brands but if you are an artist or run an online store as a side hustle Big Cartel is the better option.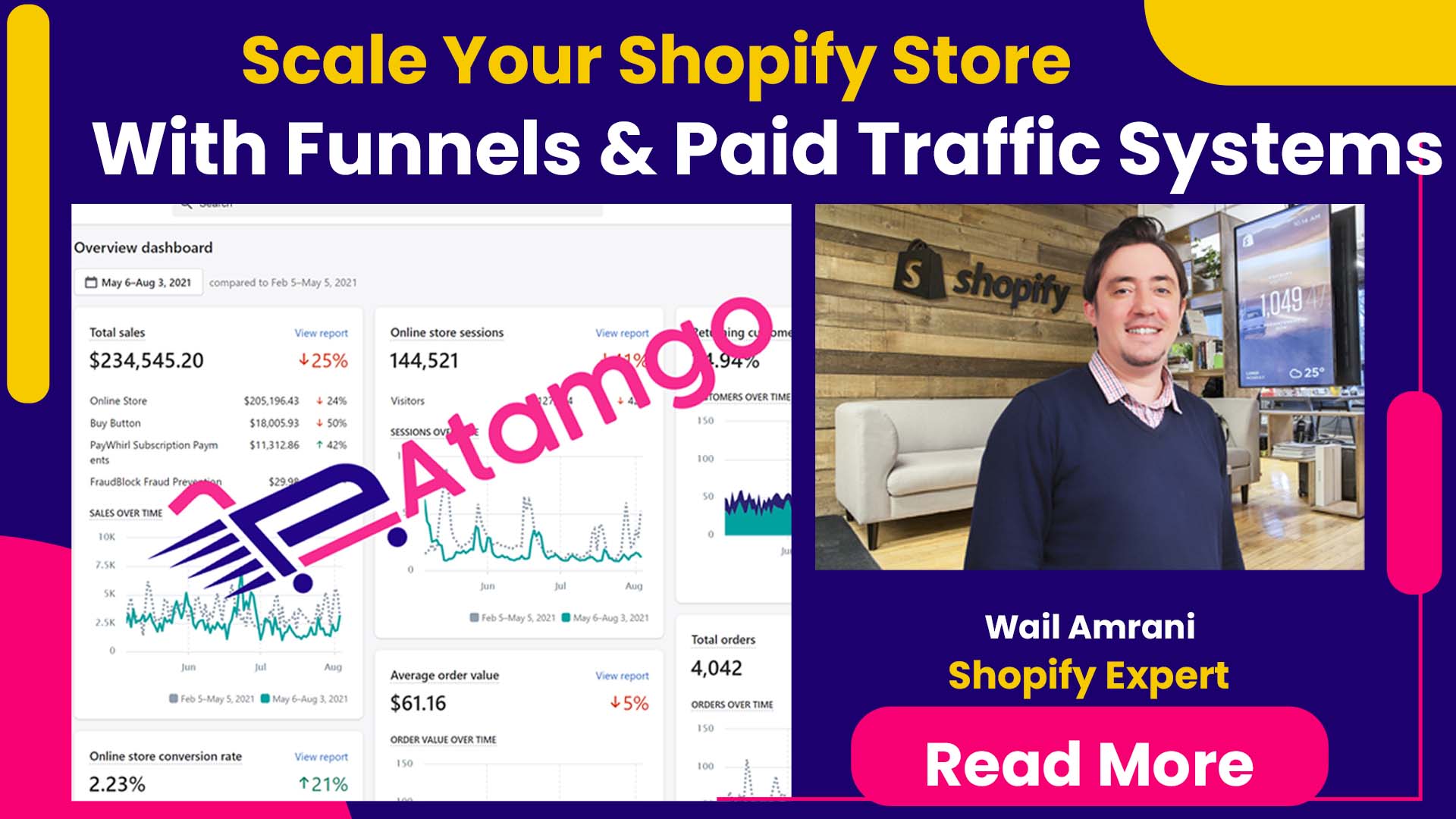 Author: Wail Amrani
Wail is a Shopify Expert & eCommerce Growth Consultant. Former digital marketing manager at Shopify I'm helping brands & retailers build 8-figure eCommerce. I've been leading digital growth for both online and retail brands for over 7 years.