As a smart business professional, you know how essential accounting software is for small business management. Simple accounting software makes the execution of business practices easy. They ease the burden of small-scale organizations by ensuring easy access and understanding of documentation tasks.
Being an integral part of any business operation, accounting requires streamlined execution. Therefore, it is essential to choose the best accounting software for small businesses. But, with so many options trending anyone can get confused. Choosing the right accounting packages is not a straightforward task. Different accounting software serves different purposes. Therefore, before finalizing a simple accounting software for your business, make sure that it fulfills the purpose of its purchase. Your choice of accounting software should facilitate your cash flow monitoring, expenses, tax filing, and other data.
To keep your accounting operations up-to-date and accurate, you may choose from the below-mentioned list of options:
Best accounting software for small businesses in 2022
QuickBooks is the best overall accounting software for small businesses. It comes with many online resources and forums for the needed training and support. It provides efficient management of all the accounting features on one main dashboard.
Advantages:
Scalable
Can easily be integrated with third-party applications
Cloud-based
Comes in form of a mobile app too
Back up records to databases, spreadsheets like QuickBooks export to Excel.  
Disadvantages
Often requires upgrade
Occasional problem while syncing with bank and credit cards
2.  Best free software: Wave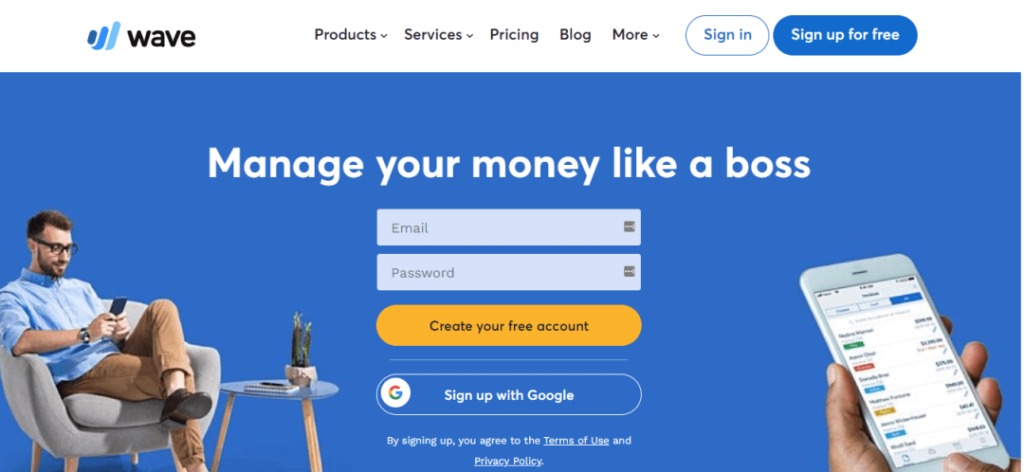 If your business is service-oriented, Wave is the best accounting software for you. It will efficiently take care of your simple invoices and require zero tracking's of inventory or payroll. The free-of-cost features of Wave will also cover all the accounting needs of your business. Its end of the year report helps to prepare business tax returns.
Advantages
No payment is required for accounting, invoicing, and receipt scanning
Limitless billing and transactions
Allows multiple businesses in one account
Mobile app-enabled
Disadvantages
Limited third-party app integration
High fees required for credit cards and ACH payments
Limited full-service payroll
No inventory management
QuickBooks self-employed accounting software is a very good software for part-time freelancers and independent contractors who mainly want to track their income and expenses for tax returns. It sums up all the business transactions automatically.
Advantages
Cloud-based
Mobile app
Tracks mileage
Differentiates between business and personal expenses
Syncs with TurboTax
Disadvantages
There is no ease of integration with third-party apps
Limited reporting
Limited functions
A limited level of customization is allowed
4.  Best for micro-business owners: Xero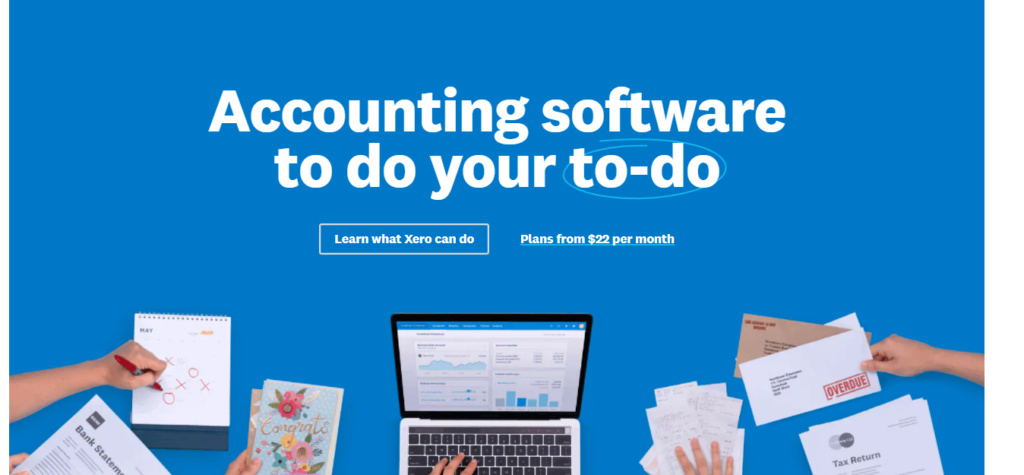 Xero is the best simple accounting software for micro business owners. It provides a very clear interface and easily integrates with third-party applications. Allows the ease of payment collection by integrating with Stripe and GoCardless.
Advantages
Cloud-based
Mobile app
Payroll integration with Gusto
Third-party app marketplace
Simple inventory management
Disadvantages
Limited reporting
Chargeable ACH payments
Limited customer service
5.  Best for service-based business: FreshBooks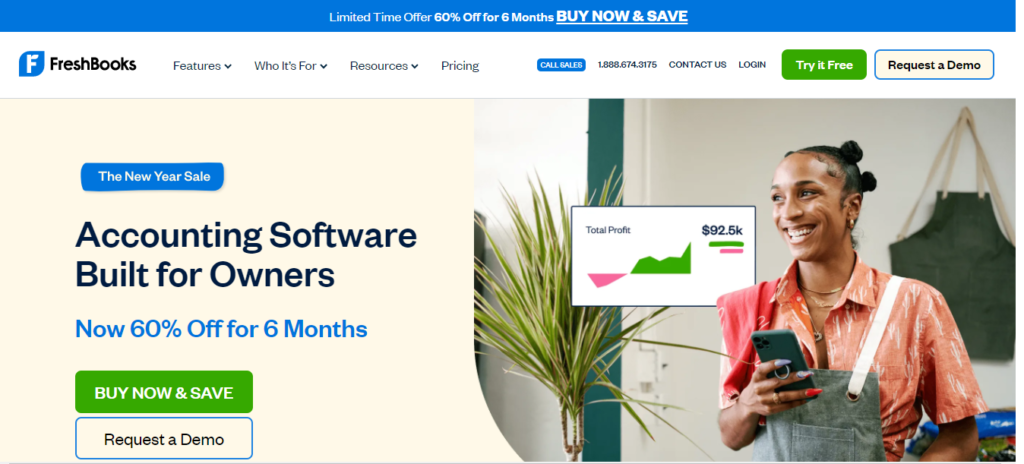 FreshBooks provides the maximum comfort and ease of customizing invoices. Its prime function is to send, receive, print, and pay invoices. It also takes care of the book-keeping needs of the business. It makes the job of sending proposals and invoices, request deposits, project tracking, and receiving payments easier.
Advantages
Cloud-based
User-friendly interface
Third-party app integration
Affordable
Advanced invoicing features
Disadvantages
No inventory management
No payroll service
Its mobile app has limited features
How to choose the best accounting software for small businesses?
Wondering what helped us choose the best accounting software for small businesses? Well, we considered the following parameters:
Reputation
Scalability
Ease of use
Features
Cost
Scalability is essential to safeguard the firm against any data transfer issues in case of business expansion. Reputation determines the accuracy of the software's functioning. Finally, collaboration and ease of use are essential to ensure that all the employees can use the software easily and enjoy its benefits.
What are the benefits of using accounting software for small businesses?
Simple accounting software can be a great financial management tool for small businesses. They can convert complex and time-consuming tasks into simplified practices. Also, simple accounting software is of super advantage to small firms which aim at future expansion. That is why, today, many businesses make use of online accounting tools to manage their invoices, make journal entries, create financial statements, and more. Accounting software automates most of the accounting and financial tasks, thus saving on the company's time and money. Here are the 7 prime reasons that drive the need for accounting software for small businesses.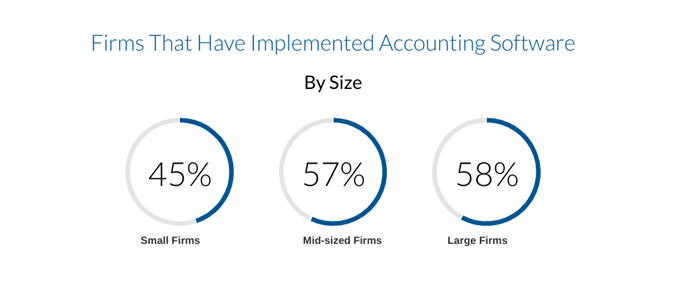 Do you know that 45% of small businesses owners use accounting software?
1. Ease of collaboration
Cloud-based accounting software provides ease of collaboration. There is real-time access to financial and accounting data. So, no bottlenecks and no time wastage. Apart from this, the cloud-based accounting software allows multiple users to work on the same data, without interfering or affecting other's practices. With such software, the owner can customize the access of data to different individuals differently. This means there is added security with customized and restrictive permission granted for accounting or book-keeping functions.
2. 24*7 remote access to accounting data
Cloud-based accounting software is accessible anytime and from anywhere. All you need is a browser-based device or mobile with internet connectivity. So irrespective of the size of the business, this feature of cloud accounting software can generate and share the financial results on the go, at any time of the day. Few clicks are all you need to create, view, and download invoices from the comfort of your mobile.
3. Ease of automation
An accountant or a bookkeeper is required to do a lot of manual work for the upkeep of financial management in the business. Often such work is of a repetitive nature. Therefore, accounting software tools take care of such recurring tasks as creating the sales invoice, tracking and creating journal entries, or sending late payment reminders. Simple integration of the bank with the respective accounting software takes care of journal entries. Remember, that not all types of accounting software come with automation features. So, check before you buy.
4.  Accounting security
Accounting data security is the biggest advantage of cloud-based accounting software tools. The confidential and valuable data of the company is secured under the layers of highly encrypted algorithms of the cloud. Also, no backup is required as the data gets automatically synced on a real-time basis. Restrictive access to data based on the need and profile of the professionals further ensures the safety of data with cloud storage.
5. Accuracy in accounting and bookkeeping
Accounting software makes sure that the accounting entries and formats are free of any accounting errors. Online accounting software is always backed with accuracy and discipline. There are error notifications in case of mismatched entries being made, because of human error. This way, rectifications are prompted and executed on time. As all the data gets synced in the cloud, there is no second thought regarding the freshness of data. All of this makes the financial reports perfect and also speeds up the job of decision making, based on these data analysis reports.
6. Improved sustainability and reduced paperwork
In 2021, dealing with paperwork is an obsolete task. It leads to a wastage of time and resources. Cloud-based accounting software replaces the hundred of financial statements on paper with online data content. Data is easily accessible from anywhere and at any time. There are pre-designed invoice templates, which ensure the ease of making multiple invoices in the shortest time span.
7. Helps with tax compliance
Small businesses prefer the use of accounting software tools, for the comfort of tax compliance. Accounting software makes the job of gathering and streamlining accounting transactions very easy. AS a result, the business is relieved from any tax-related stress. The much-advanced accounting software comes embedded with inbuilt tax rules which relieve you from the stress of abiding by the tax guidelines and instead focus on the business. Simply update the location and business details to get the related tax invoice and documents.
Final words
Now that you are all updated with the perks of accounting software for small businesses, filter your choice with the help of pros like SoftwareSuggest. The entire economy has hopped onto the bandwagon of software tools trailing on the track of clouds. So, why not you? There is comfort, ease of use, accuracy, proficiency and so much more to lure any business for buying the best accounting software as per the requirement. For more expert opinions, get in touch with the team.