Are you tired of dealing with tons of competition online? If you wish you could avoid the problems of some social media algorithms, you're not alone. 
Luckily, there are some less-known social media platforms that may help you market yourself as a freelancer. You don't have to deal with the massive competition on Facebook or TikTok. 
Read on to learn about some excellent platforms for freelancers.
Medium is a combination of a blogging platform and a social media platform. You can create an account and post articles (Medium calls them "stories") on whatever topic you like. 
Users can follow you, and you can follow other users. Medium also allows you to create and follow publications, and you can apply to join publications. Then, you'll submit an article that you think is a good fit, and the editors can approve or decline your submission. 
Publications can help you get your articles in front of a larger audience. However, the Medium algorithm can also help expose your content to new people. 
Medium also has a high domain authority, which gives your articles a good chance of ranking in search results. If you write about your freelance niche, you may be able to get clients who want to hire you when they find your articles through a Google search. 
This platform doesn't use any ads, so you'll need to pay a monthly or yearly fee to read unlimited articles. However, once you reach 100 followers, you can apply to the Medium Partner Program to make money from your content.
BizSugar is another one of a few content-based social media platforms. You can join the Mastermind community to get help from other members. The group gives you the chance to earn incentives and build your network with other freelancers. 
As you gain experience, you can help other members of the BizSugar community. You can share advice or even leads for clients if you have a full load of work. 
BizSugar also provides a variety of calculators and other tools to help you run your business. If you're a writer, you can write articles to share on the site. And if you aren't a writer, you can still connect with people in the freelance world. 
When you join the Mastermind, you'll have access to free online events. Then, you can learn from experts to help grow your freelance business. You can also watch tons of videos for free on topics such as becoming more efficient.
Tumblr is a more casual social network, but it can still be useful for freelancers. You can use the platform as a blog of sorts, so you can share your portfolio. That makes it a fantastic choice for writers, designers, developers, and other creative freelancers. 
To view all of the content on Tumblr, you'll need to create an account. However, it's completely free, and you can use your account to follow accounts and tags. 
If you want to get more freelance clients, you can include that in your profile. You can also create a post letting people know how to hire you. While it's not the most popular platform for freelancers or clients, that can give you an advantage. 
You may face less competition on more popular social media platforms, like Facebook. With less competition, you might be able to get more leads through Tumblr. Then, you can turn those leads into paying clients.
DeviantArt is an amazing online community for artists. You can share content on your DeviantArt profile, but you can also submit your content using Deviations. Topics range from digital art to photography to traditional art. 
It's a great place to build a portfolio of your visual work. You can share on your account that you're a freelancer, and you may get people who want to pay you for art. 
Another option is to link to your DeviantArt profile from other social networks. Then, you won't need a full website to create and show a portfolio. Plus, you can use different categories, such as literature or game art, to help showcase your niche. 
Once you join the platform, you can find and join groups on DeviantArt. That can help you connect with other artists. You may be able to refer clients to each other if you have a full workload or if another artist needs help with their work.
You may know of GitHub as a place where developers can build and maintain software. However, the platform also offers a community where developers can connect. You can report problems with software, and developers can help fix the issue. 
The software works in the cloud, so you can collaborate with other developers. GitHub Discussions is the social network part of the platform. You can set up a community where you can ask questions or get feedback. 
It's an excellent platform for companies looking to hire freelance developers as well. Odds are, the developer you hire uses or has heard of GitHub. 
You can make use of the collaboration features and the security. That way, your developer can write the code for your website or app. You won't have to worry about setting up a secure way of transferring the information after the project.
Ello started as a private social network, but it's now open to the public. Like DeviantArt, it's perfect for artists looking to showcase their work. You can share digital art, photography, music, fashion, and even your writing. 
It works similarly to other social media platforms based on how you interact with content. You can "love" or comment on peoples' posts. There's also the option to share the content if you want to post it on another platform. 
You can make extra money through your work by submitting a project to a Creative Brief. The winners usually receive a cash prize. 
Owned by Talenthouse, you also have access to the company's list of clients. That can be a good way to help get your freelance career off the ground. And you can start to build a name for yourself online.
Behance is very similar to Ello in that you can share your creative work. You can post your projects, and people can view your work and like your posts. If you find someone's work you like, you can message them. 
That means clients can send you a message if they want to hire you. As you scroll, you can save images that you like to a mood board to use for inspiration for your projects. You also have the option to search based on the type of work, such as graphics or photography. 
Clients can use the site to post jobs, so they can browse available work. Some of the jobs on the platform are full-time, while others are freelance. 
You can also live stream as you do your creative work. People may then watch and start to like your work and your personality. That could help you get more clients, and you don't have to compete with as many users as you would on Instagram or Facebook.
MyBlogU's tagline is "collaborate to create epic content." That makes it one of the best lesser-known social media platforms for writers. However, photographers and designers can also make use of the network. 
You can use MyBlogU to brainstorm content ideas and angles to make your content unique. It's also a great place to connect with others to give or host interviews, which makes it similar to a platform such as HARO. 
This website also features media galleries that content creators can pull from. You can upload digital media, such as a video or infographic. Creators can review the media assets and use them while giving credit to the owner. 
It's free to join, and you can use MyBlogU for a lot of different things. That way, you can get help marketing yourself as a freelancer using other social media platforms.
Many people know of Quora as a place to ask or answer questions, similar to Reddit. However, it also offers more features that are similar to other social media platforms. 
You can create or join Quora Spaces, so you can share content directly on the platform or link to your website or other social networks. There are Quora Spaces in a variety of niches, so you should be able to find some to join no matter what you do. 
If you can't find any good ones, you can create your own. You can then promote your Space when answering questions on Quora. Optimize your profile to show potential clients that you're open to freelance work. 
Another benefit is that you can monetize your Space with ads or paywalled content. Then, you can make a little extra, somewhat passive income along with your freelance work.
Like Quora, many people know about Snapchat. You may have even used the platform during its heyday. While it's not as popular now, it's still a good option, especially for freelancers who primarily work with local clients. 
You can post to your stories so that the posts last for 24 hours. However, you can also pay to create a unique geofilter. This is a great option to get your name in front of potential clients who may see your geofilter when creating their own Snapchat posts. 
Of course, ads are another way to get in front of new accounts. That way, you can connect with people in your area or not. 
It's a great platform for sharing clips of you behind the scenes. Now, you'll probably have the most success if your ideal clients are active on Snapchat. But it's worth a try, and you can easily repurpose your Instagram stories so that you don't have to create more content. To meet the purpose, you can also grab the best sites to buy targeted Instagram followers.
Another social media platform that was popular but isn't as common now is Clubhouse. You may have heard about it when it launched in 2020 as an invite-only platform. When you joined Clubhouse, you'd get a set number of invites. 
It appears that anyone can join the platform now, and it still has many active users despite it no longer being in the news. You can use the platform to host a radio show or podcast live, and people have to listen live since there are no recordings. 
Clubhouse is a great platform to use to listen to leaders in your industry. You can also set up rooms where you can speak alone or collaborate with clients or other freelancers.
If you're able to showcase your expertise, you can mention that you do freelance work. Then, clients may choose to hire your freelance services. It's an especially good tool for freelance speakers or creators who use a lot of audio in their work.
A lot of people use WordPress as their website software, and you can do that as well. Whether you use WordPress.com or WordPress.org, you have access to the WordPress app and website. 
You can use both of those to discover new blogs based on the topics you like. This is a great way to interact with people in your industry. You may come across a blog for your ideal client, and you can comment on their posts to build a name for yourself. 
People can also follow your blog if you have one using WordPress. Leave comments and share the blog posts like you like to get social with other users. 
WordPress is also an excellent source of traffic to your blog. You can get more views than you might expect due to people using the WordPress discover tab. Some of those people may be clients, and they could choose to hire you if they like your blog.
Which Social Media Platforms Will You Use?
Even if you already use Facebook, Instagram, and TikTok, you may want to try other apps or websites. But to avoid the competition, you should consider some less well-known social media platforms. 
Some of these have a big audience, but they may be more known for other features, such as the programming on GitHub, or the questions on Quora. Be sure to look at all of these platforms and consider which makes the most sense for you and your freelance business.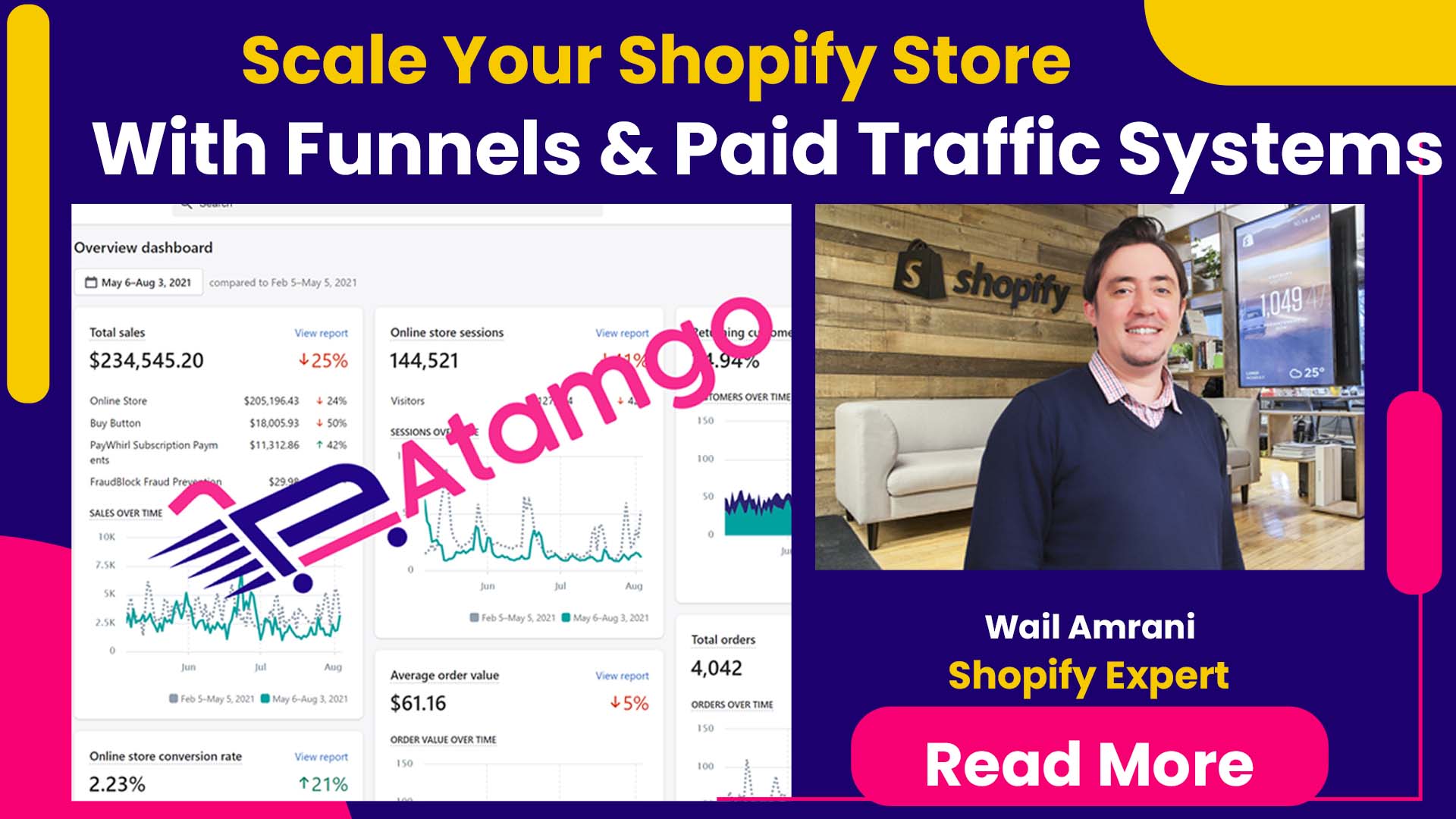 Author: Wail Amrani
Wail is a Shopify Expert & eCommerce Growth Consultant. Former digital marketing manager at Shopify I'm helping brands & retailers build 8-figure eCommerce. I've been leading digital growth for both online and retail brands for over 7 years.