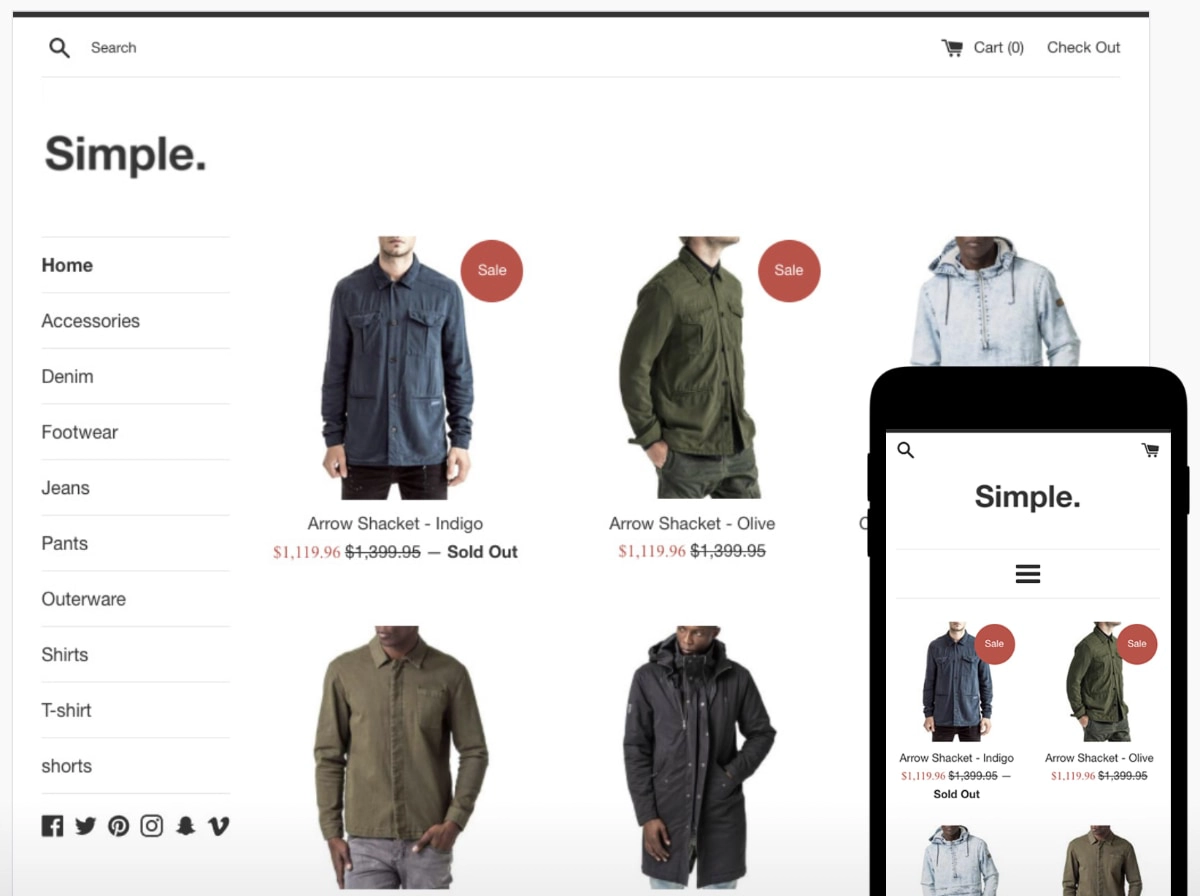 Popular ecommerce platform that does everything you need it to do ( Shopify Uk) – if you can afford it.
Shopify is a Canada-based ecommerce platform with all the important tools needed to run an online store. The system can connect with POS sales and extra features, but it's not the cheapest solution if you want more than the basics.
Highs: Lots of additional tools can be added. Wide choice of online payment options. Integrated with in-person sales. Dropshipping option.
Lows: Steep price curve. Most templates cost £110+. Could be more user-friendly. Customer support not always helpful.
Best for: Small-to-medium businesses wanting a relatively simple interface, but with the most customisation options for an online store.
How Shopify UK works
Shopify is one of the original ecommerce platforms, with over 1 million users across many countries including the US, UK and Canada where the company is based. It is fully hosted, so the website and payments are run by Shopify for a subscription cost.
After completing a brief sign-up form, you get a 14-day free trial allowing you to pick a website template, build the online store, add products and most other things included on a paid subscription. Once subscribed to a paid plan, you can start accepting payments in the online shop and connect it to a unique domain name.
Shopify Payments






Others accepted
Manual payments (e.g. cash, bank transfers), PayPal, Shopify Pay, Amazon Pay, third party processors, long list of international payment providers incl. BitPay, Alipay Global, ePay etc.
Given its presence in many countries, Shopify is able to accept online payments in many different ways. The preferred method is 'Shopify Payments' accepting Visa, Mastercard, Maestro, American Express, Shopify Pay, Apple Pay and Google Pay. You can also connect nearly any other payment system popular in your country, for instance SagePay and Worldpay in the UK.
The paid plans directly integrate with Shopify's own point of sale (POS) system for iPad and Shopify card reader. This makes it an excellent choice for those primarily selling online (because that's what Shopify is best at), but also in person.
Shopify pricing and payments
An oddity of Shopify is the requirement to pay in US dollars instead of pounds sterling. This is a reflection of their customer base being mostly American.
Currency aside, Shopify's three main plans for building a web store include Basic Shopify, Shopify and Advanced Shopify. There is a fourth plan called Shopify Lite, but this is just for 'buy buttons', not for managing an online store. A Shopify Plus plan is also available, but this is only for enterprises, large and/or high-volume businesses.
You can choose to pay monthly, annually, every other year or every third year upfront. You can save money the more you pay upfront, but then the price is a lot higher and you cannot get the money refunded. It is therefore quite a commitment to go for any other plan than the pay-monthly ones.
Plan
Monthly*
Yearly*
2 years*
3 years*
Basic Shopify
$29/mo
$312
($26/mo)
$558
($23.25/mo)
$783
($21.75/mo)
Shopify
$79/mo
$852
($71/mo)
$1,518
($63.25/mo)
$2,133
($59.25/mo)
Advanced Shopify
$299/mo
$3,192
($266/mo)
$5,640
($235/mo)
$7,884
($219/mo)
* VAT not included. All US$.
Each subscription includes the ability to accept payments via Shopify Payments, but card rates vary between the plans. Card fees are highest on Basic Shopify Uk and lowest for Advanced Shopify. If you're a high-volume business, it might therefore make sense with the higher plan as the card rate savings could justify it.
With Shopify Payments, you are also able to add additional payment methods to your checkout options, such as PayPal and Amazon Pay. These other methods have separate costs payable to those providers – Shopify does not add anything on top of those as long as you also have Shopify Payments activated in your online store.
Transaction
charges to
Shopify
Shopify Payments
– online
Shopify Payments
– card reader
Other payment
gateway
– online
Basic Shopify
2.2% + 20p
1.7%
2% + fees to other provider
Shopify
1.9% + 20p
1.6%
1% + fees to other provider
Advanced Shopify
1.6% + 20p
1.5%
0.5% + fees to other provider
Shopify Payments also handles in-person payments through Shopify card reader – these fees are a bit lower than for online payments. There is no 20p charge added to the percentage rate for transactions on credit card terminals like you see with online payments.
If you use a different card reader than Shopify's own model, transactions will just be marked as complete in the system and no Shopify transaction fee will be charged. You will, of course, have to pay transaction costs to the other payment provider in this case.
If you deactivate Shopify Payments and instead use another payment gateway for online transactions, Shopify will charge a 2% transaction fee on Basic Shopify, 1% on Shopify or 0.5% on Advanced Shopify. This is in addition to the transaction costs paid to the external payment provider.
There is a selection of free website templates, but most cost a one-off price ranging between $100-$180 each (most of them are $140-$180).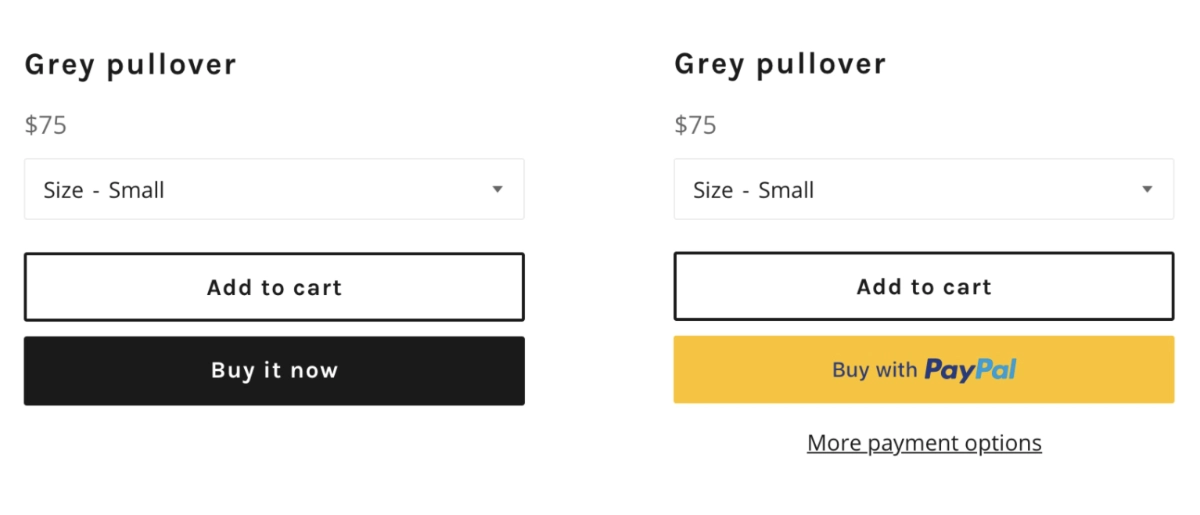 Examples of Shopify UK checkout buttons that are customisable.
It takes three working days from the time a customer pays in your online store until Shopify sends the payment to your bank account. Then it takes 24-72 hours for the transaction to appear in your bank account. This means the payout time can be up to six working days with Shopify Payments.
Features
All three Shopify plans allow you to build and run a full ecommerce store with blog included. You can add unlimited products and sell on social media or another website through pay buttons via the Shopify system. Let's go through some important features available on all plans.
Product catalogue: Add any products, services or gift cards to the product library, or import them in one go if they're in a spreadsheet. Choose what sales channels (online store, point of sale etc.) you want to sell them through, track inventory levels, add variants, SEO data and more to each item. Out-of-stock items can be hidden automatically and search filters added to your website so customers can find products easily.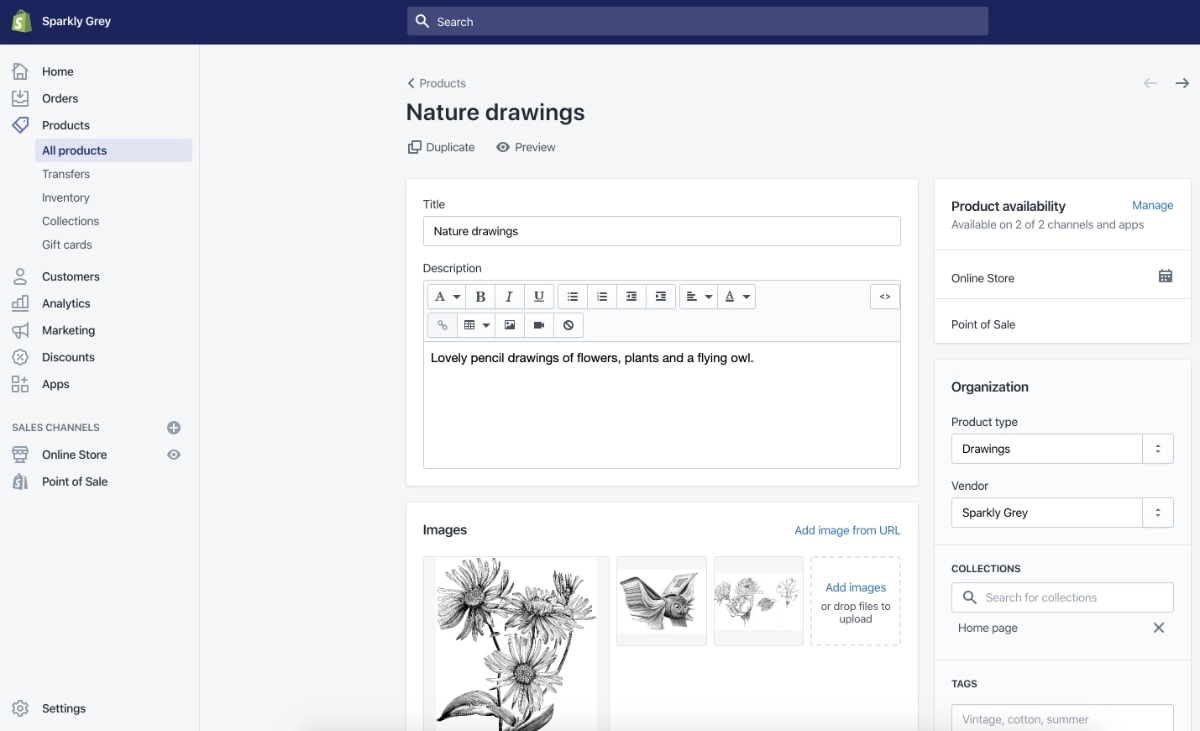 'Edit product' page via Shopify UK dashboard.
Order management: The order section lists all sales alongside payment and fulfilment status and customer details. Connect with fulfilment solutions like Amazon and Shipwire to make the dispatch system more efficient.
Discounts and promotions: Set up a variety of discounts to incentivise customers, e.g. discount codes, Buy One Get One Free offers and timed or persistent offers. Promotions are powerful tools for growth.
Abandoned cart recovery: A proven way to increase sales conversion is sending emails to customers who abandoned their shopping carts. Shopify can do that automatically.
What, then, are the differences between the price plans? Most built-in ecommerce features are the same for everyone, except for:
| Feature | Basic Shopify | Shopify | Advanced Shopify |
| --- | --- | --- | --- |
| Staff accounts | 2 | 5 | 15 |
| Gift cards | | | |
| Professional reports | | | |
| Advanced report builder | | | |
| Calculated shipping rates via third party | | | |
Staff accounts: Refers to the users allowed to log in and manage the online store. This is only relevant if multiple people manage customer orders, online store etc. You can set restrictions on what colleagues can do in the account, while the admin account retains full control over all functions.
Gift cards: Available on Shopify and Advanced Shopify plans only. This allows you to sell gift cards in the online store for redemption on your website.
Reports and analytics: Basic sales reports with taxes and payments can be generated on any plan, but the number of analytics are tiered according to the subscription level. Basic Shopify gives access to inventory, acquisition and behaviour reports and also some marketing analytics. Upgrade to the Shopify plan and you have all marketing and behaviour analytics, profit reports and most sales and customer analytics. Advanced Shopify includes all customer analytics and the ability to create custom reports.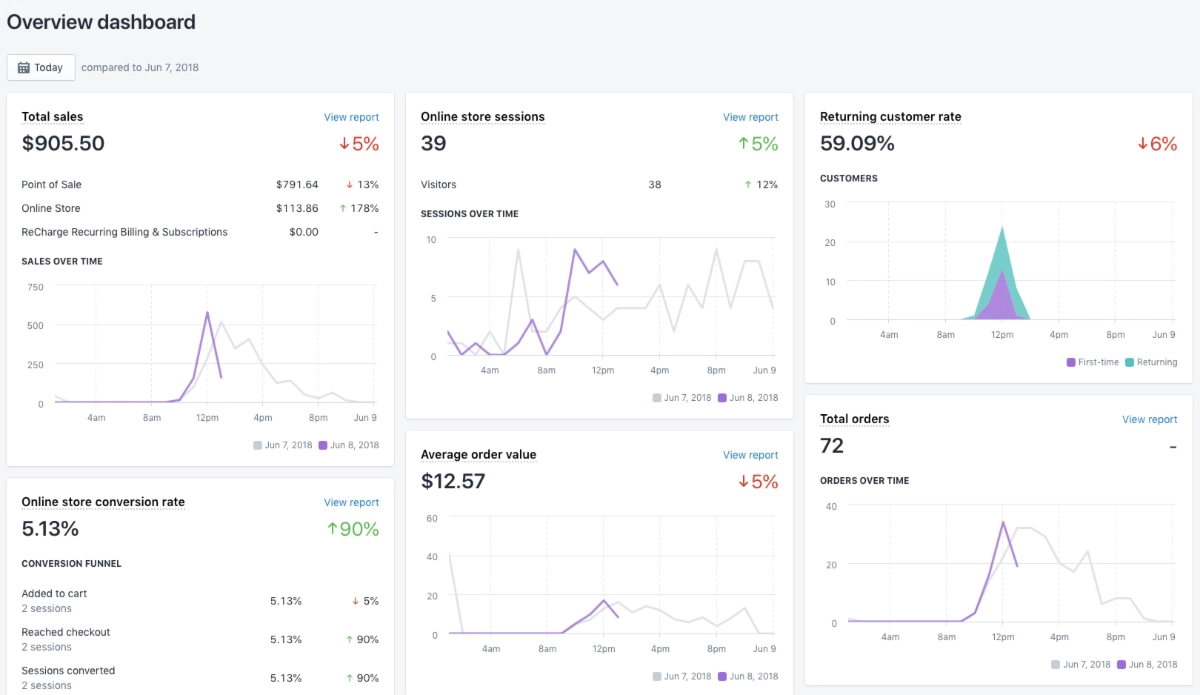 Analytics overview through Shopify's dashboard.
Calculated shipping rates: Shipping rates need to be shown or calculated at checkout. All Shopify users can set package size, shipping location, rates and more, but Advanced Shopify enables calculated shipping rates via FedEx, UPS and other carriers.
Dropshipping: Shopify allows you to connect with dropshipping suppliers such as Oberlo (extra costs apply). What is dropshipping exactly? It's when customers on your website can buy items you don't stock, ship or handle personally – instead, you get a supplier to send the products to customers directly. This means you don't have to purchase large inventories before the sales are secured.
Setting up the Shopify UK website
Getting started with Shopify is pretty standard. After sign-up, you land on your online dashboard where there are links to adding products, picking a website theme and more. If you've built a web store before, you know what to do, but first-timers could do with a little more guidance.
Instead of showing prompts everywhere (user-friendly alternatives like Wix are good at that), Shopify leaves it up to you what to do next. The website editor could also be more user-friendly, as it is not drag-and-drop, so you have to guess where in the side menu certain elements are edited.
Another standard feature is the blog editor where posts are published from, accessed through the browser dashboard. It's quite a small editor compared to the whole browser window and only has essential functions like text alignment, bullet points and core SEO settings (we noticed there is no undo button). You can switch to an HTML editor any time, allowing a bit more freedom if you can code. As example know world 365 blog
A Shopify expert remain the best choice to scale your business.
Website templates
Through the online dashboard, you can go to Shopify Themes to pick a design template for the web store. Only 9 templates are free, although each has 2-4 variations to pick from. There are 64 other themes costing $100, $140, $160 or $180 each – a total of 73 themes including the free options.
Instead of overwhelming you with design options, templates can be filtered based on the style. For instance, pick a template based on layout, navigation, social media feeds, industry, product pages, and the number of items you're selling. Once you've chosen your basic template, the editing choices will be shaped around it.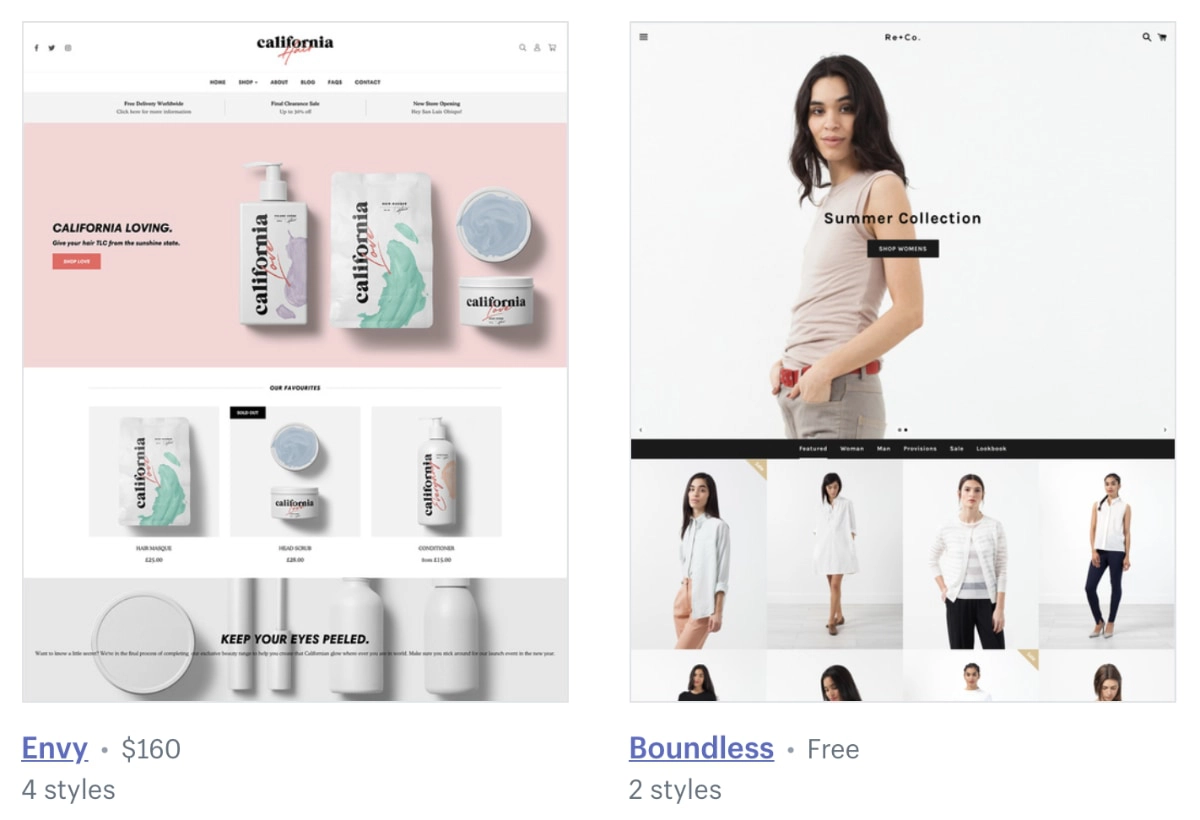 Example of a paid and free Shopify theme.
You can expect the free themes to be simpler than the paid ones. We tested a free template, which did not have as many editing options as other top ecommerce platforms. So, if you go the free-theme route, expect some design elements to be absent or not editable.
Generally, you can add sections (e.g. video, featured collection, text, blog post) to each page in any order, and change basic things like typography, images, text, logo, footer and more.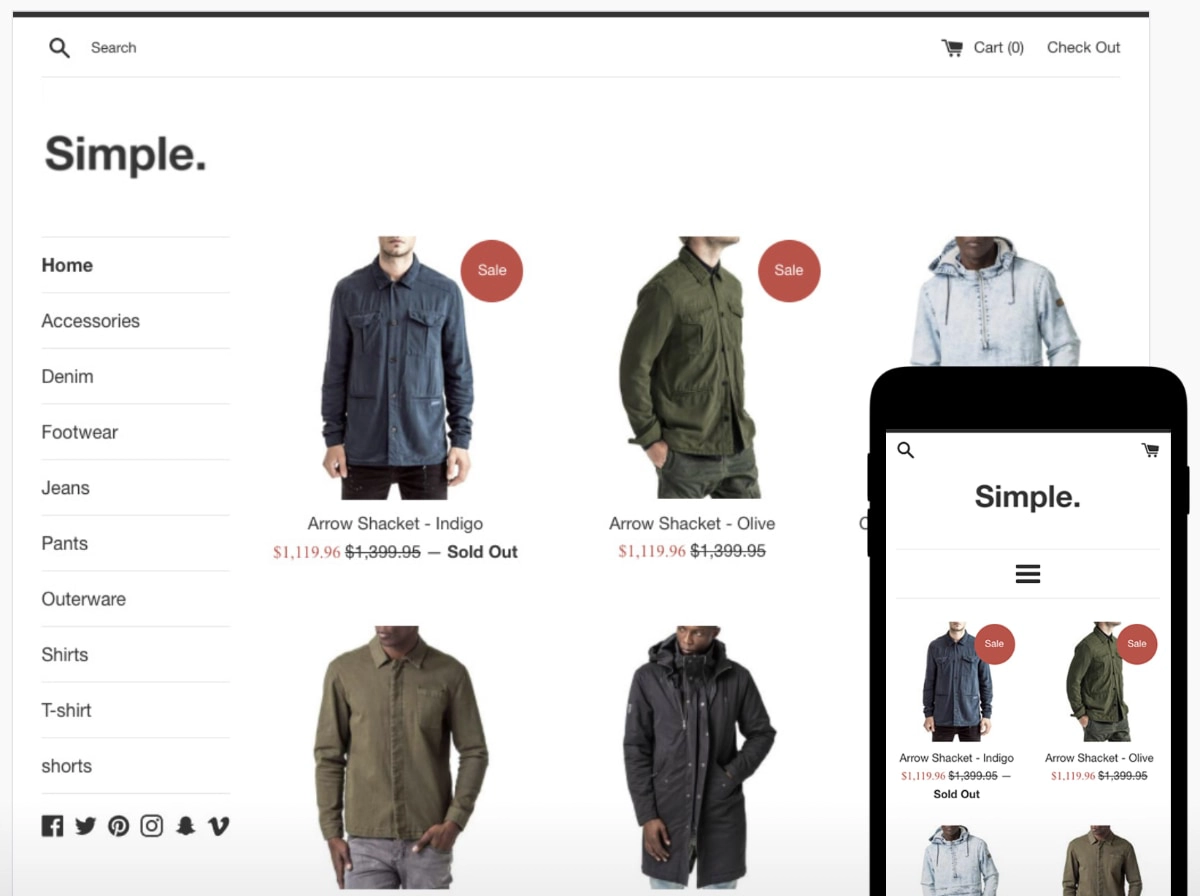 All the styles are responsive, i.e. look fine on a smartphone or tablet screen. While using the editor, you can switch between desktop, mobile and tablet view any time to check how the edits look on different screen sizes.
Domain and hosting
As with most mainstream ecommerce providers, Shopify manages the hosting (i.e. storing and processing) of your website on their choice of servers, covered in the subscription cost. This includes a free SLL certificate ensuring your website is safe to browse.
Shopify boasts unlimited bandwidth and a quick load time regardless of location in the world, largely due to a worldwide server network enabling quick processing to local website visitors.
The only extra thing you pay for is a domain name, unless you stick to a free URL in this format: https://your-website-name.myshopify.com
If you already have a domain name purchased elsewhere, this can be connected to your online store. There is a benefit to buying a domain through Shopify, though, as it gives you an unlimited number of forwarding email addresses (e.g. info@yourstore.com) that forward emails to an existing email address of yours. However, we've seen feedback that replying to customers will show your personal email address to the customer.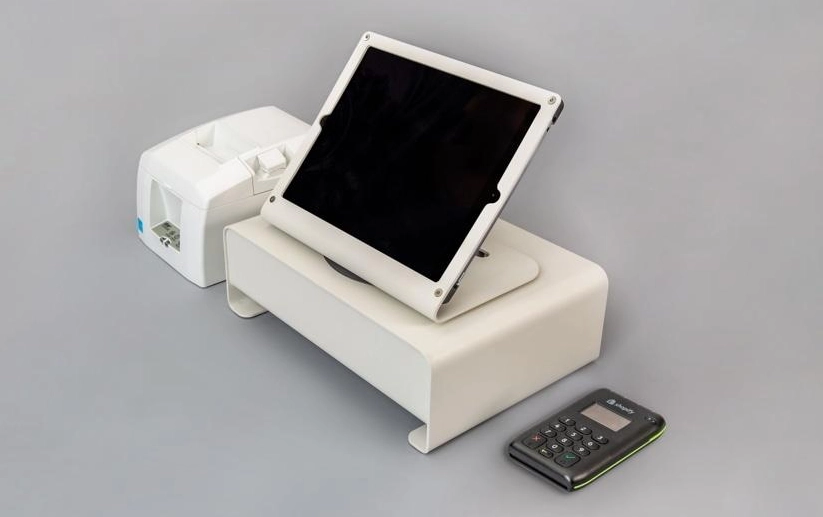 A POS hardware bundle that works with the Shopify plans – for shops that sell in person too.
POS integration
Brick-and-mortar shops, seasonal stores and pop-up shops could benefit from Shopify's integration with its very own POS system and card reader.
All Shopify plans let you download a complimentary POS app on iPad or iPhone and connect it with Shopify card reader (£59 + VAT). The Shopify POS system does not integrate with any other card machines in the UK, but it is possible to use an external card machine separately and then manually mark the transaction as a card payment in the POS app.
Products already added in the online store can be added to the POS library to sync stock levels across all sales channels.
There are actually two POS packages: Shopify POS Lite (free on all Shopify plans) with enough features for on-the-go sales, and Shopify POS Pro (US$89/month per location) with advanced features for staff, store, order and product management.
Shopify App Store: for extra features and integrations
If additional tools are needed, the Shopify App Store has an unparalleled selection of tools to download and use with the Shopify store: over 5000 apps, actually! Suffice to say, this gives a lot of options to shape your web store and business operations as it grows bigger.
The app tools have separate costs – even if Shopify created it – on top of the ecommerce subscription, although some may be free to use. They are categorised into these areas:
Customer support
Finances
Finding products
Inventory management
Marketing
Orders and shipping
Places to sell
Productivity
Reporting
Sales and conversion
Store design
Trust and security
In other words, even with a simple, free template for the online store, there is still much in the way of customisation through third party features.
If you already have a blog on another website, the Shopify Lite plan ($9 per month) lets you embed Buy Buttons on that site to accept payments through Shopify.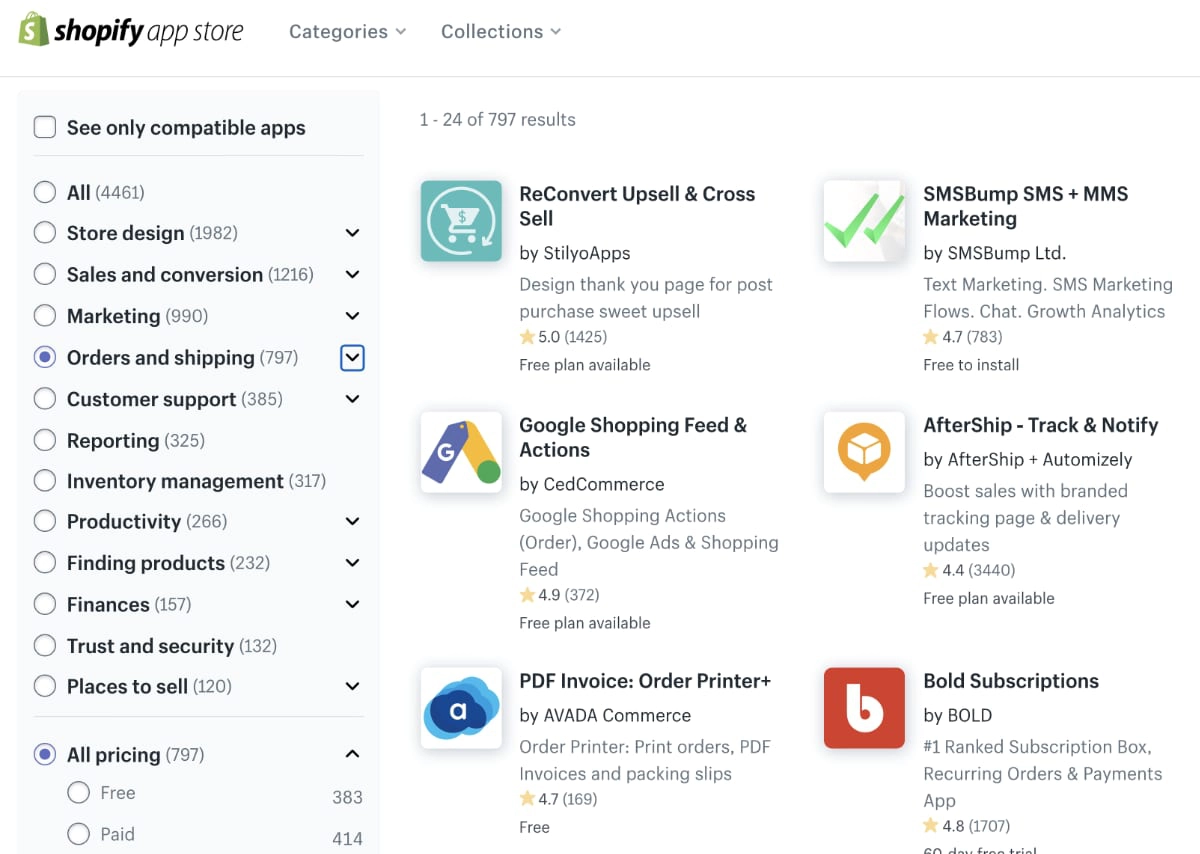 Example selection of the many Shopify apps compatible with the online store.
An additional feature promoted to users is the free app Shopify Ping. This is a messaging app where you can chat to customers and sell products directly in the customer chat. Shopify Ping is integrated with your online store so products can be shared and payments initiated in the app.
Customer service and user reviews
24/7 customer support is offered on all plans, but there are mixed reviews around the quality of service of Shopify UK.
Some in the UK claim that the customer support is hard to reach or not able to resolve all queries. Other users complain that they pay more in monthly fees and chargebacks (due to fraudulent transactions) than earned on the website, although arguably, the sales you make are beyond's Shopify's control.
Several customer reviews mention increased service disruption, especially last year. Not all server downtimes are recorded on the server status page, apparently, meaning the official claim of "99.98%" uptime may be significantly off.
The comprehensive Help Center on the website answers most questions with in-depth explanations and videos. There are also guides, forums, podcasts and free tools to help your business. Shopify Academy is another impressive, free resource for budding entrepreneurs where you can enrol on short courses divided into learning videos. These cover Shopify-related topics, marketing, business know-how and other ecommerce topics.
However, advanced features require an upgrade to a plan with a monthly fee of £60+ on top of costs of transactions and external apps. Add to that a paid website theme (if the few free ones are not attractive enough), and you're off to an expensive start.
This is why I'd strongly recommend making most out of the free trial before committing to a subscription that could cost more than your sales can justify.
If you anticipate an uncertain turnover, it might be better to choose a platform that's affordable even for the advanced features you'll need down the line.
If you anticipate an uncertain turnover, it might be better to choose a platform that's affordable even for the advanced features you'll need down the line.
That said, the customisation options are varied, and it might just be the most advanced ecommerce solution that syncs seamlessly with a low-cost POS system.