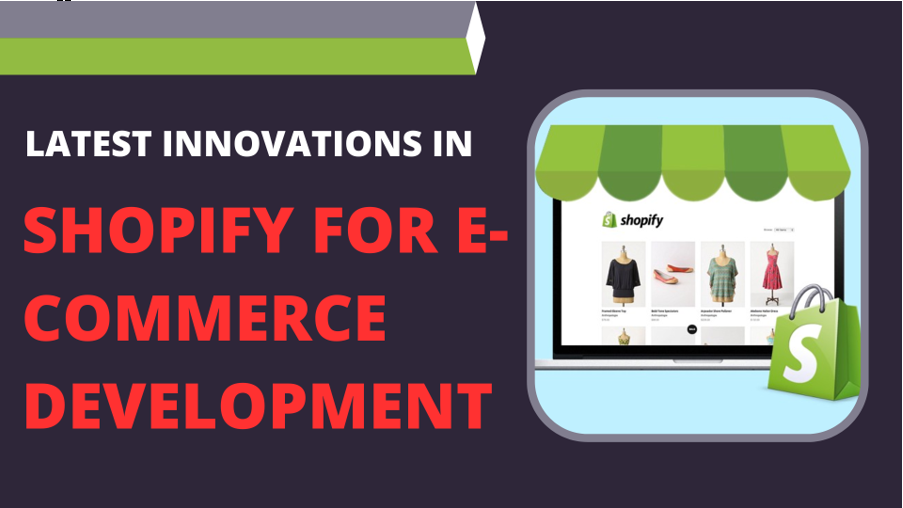 E-commerce is one of the fastest-growing industries today. With the global pandemic pushing people to do more online shopping, the demand for e-commerce platforms has skyrocketed. Shopify, a leading e-commerce platform, has been at the forefront of this industry with constant updates and innovations that help businesses grow their online presence.
As a business owner looking to start an online store or migrate to a more efficient platform, it's essential to know the latest innovations in Shopify for e-commerce development.
One way to do this is by hiring a Shopify developer who is experienced in using the platform and can help you make the most of its features.
In this article, we'll take a look at the latest innovations in Shopify that a developer can help you leverage to grow your e-commerce business.
11 Latest Innovations In Shopify ECommerce Development
Here are the latest innovations in Shopify e-commerce script development and how they can help online retailers fast-track their businesses and keep themselves updated:
1) Commerce Components
Shopify's Commerce Components combine the best of both worlds for online retailers. A retailer can access Shopify's foundational, high-performance components to build dynamic customer experiences that integrate seamlessly with its preferred back office services — like checkout, which converts 72% better than a typical checkout and 91% better on mobile—as well as flexible APIs to build dynamic customer experiences. Commerce Components by Shopify gives retailers the speed and flexibility needed to build for the future.
2) Headless API
Brands can now integrate their existing services with Shopify's modular components without rate limits and create unparalleled customer experiences. Developers can use any front-end framework they want and develop an online e-commerce website for their clients.
You can also create unique commerce experiences for any platform, from the web and mobile apps to AR, VR, and 3D models.
Shopify AR is a new augmented reality feature that allows merchants to create 3D models of their products and display them in a virtual environment. With Shopify AR, customers can see how products would look in their homes or workspace before making a purchase.
Shopify AR allows merchants to create immersive shopping experiences that can help to increase customer engagement and conversions. By allowing customers to visualize products in their own space, merchants can help customers to feel more confident about their purchases.
Shopify has also launched a headless SDK, Hydrogen, and Shopify's React-based framework experience. It includes the structure, components, and tooling needed to get started. It allows some spare time for styling and designing features that make your brand unique.
3) One-click checkout
Shopify's one-click checkout and 99.99% uptime are trusted commerce foundations. Shopify also unlocks over 100 million existing Shop Pay customers who have opted in for one-click checkout.
4) Shopify POS 
Shopify POS is a point-of-sale system designed for brick-and-mortar stores. With Shopify POS, merchants can accept payments, manage inventory, and track sales from their physical stores. The latest version of Shopify POS is designed to work seamlessly with Shopify's ecommerce platform. This means that merchants can manage both their online and offline sales from a single dashboard.
One of the key features of Shopify POS is its ability to accept multiple payment methods. Merchants can accept payments using credit and debit cards, cash, and even mobile wallets like Apple Pay and Google Pay. Shopify POS also allows merchants to accept payments in multiple currencies, making it easier for international customers to shop at their stores.
5) Shopify Fulfillment Network 
The Shopify Fulfillment Network is a new service that allows merchants to outsource their order fulfillment to Shopify. With the Shopify Fulfillment Network, Shopify handles all aspects of the fulfillment process, from picking and packing to shipping and delivery.
The Shopify Fulfillment Network is designed to help merchants save time and money on order fulfillment. By outsourcing their fulfillment to Shopify, merchants can focus on growing their business instead of managing logistics. The Shopify Fulfillment Network also offers fast and reliable shipping, which can help merchants to improve their customer satisfaction and loyalty.
Any e-commerce business can build a unique cart for their business by leveraging our APIs and cart app extensions. 
6) Shopify Email 
Shopify Email is a new email marketing tool designed for Shopify merchants. With Shopify Email, merchants can create and send professional-looking email campaigns to their customers directly from the Shopify dashboard.
Shopify Email comes with a range of templates and pre-built designs that merchants can use to create their campaigns. Merchants can also personalize their emails by adding their own branding and messaging. Shopify Email also allows merchants to track the performance of their campaigns, including open rates, click-through rates, and conversions.
Shopify also introduced Shopify Chat. It is a new messaging app designed to help merchants communicate with their customers in real time. With Shopify Chat, merchants can chat with their customers directly from the Shopify dashboard or their mobile devices.
Shopify Chat allows merchants to provide fast and personalized customer support. Merchants can use the app to answer customer questions, resolve issues, and even make product recommendations. Shopify Chat also allows merchants to track their conversations with customers, so they can keep track of customer inquiries and follow up with customers as needed.
7) Integrate a world-class ecosystem
A network of seasoned agency partners and system integrators such as Deloitte, EY, and KPMG is part of Shopify's world's largest commerce ecosystem. Many online retailers can connect and collaborate with them with ease now.
8) Low-code storefronts
It is a concept that enables non-developers to develop software using UI-driven, drag-and-drop platforms. The modular design allows specific functionality to be added to new apps and workflows. For example, Shopify's Liquid templating language lets one create dynamic, enterprise-scale storefronts.
9) Headless hosting
One can deploy the Hydrogen storefront on Oxygen, Shopify's built-in hosting platform, with just one click. This also allows online stores to get optimized performance at a global scale.
 10) Magic content
Shopify's latest innovation is also to deliver rich content experiences for e-commerce businesses using its custom data models or your existing CMS.
11) Shopify App Store 
The Shopify App Store is a marketplace that offers a range of apps and integrations that merchants can use to enhance their Shopify store. The App Store offers apps for everything from marketing and advertising to shipping and fulfillment.
One of the latest innovations in the Shopify App Store is the introduction of the Shopify App CLI. The Shopify App CLI is a command-line tool that allows developers to build and test Shopify apps directly from their local environment. This can help to speed up the app development process and make it easier for developers to create high-quality apps for the Shopify platform. 
In conclusion
Down the line, businesses, especially brick-and-mortar businesses, have started consuming the concept of developing online stores to expand and grow their business.
So, after utilizing some of these unique & latest innovations, they can make sure to make better decisions running their businesses.