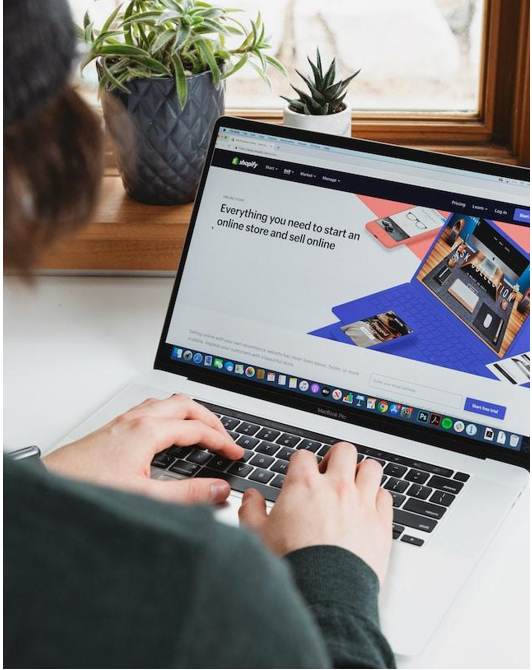 Shopify is probably the most popular e-commerce platform in the world. With its help, people from 175 countries manage almost 4.5 million websites with an $80 billion annual turnover. Even Adele and David Beckham run Shopify stores! It is a great opportunity to start a business from any place in the world although there might be a few bumps in the road.
Below, we want to discuss the most common problems of using Shopify on Mac and the ways to troubleshoot them. While many issues are fixed by expanding the application memory (use this article to find out how), there are several other unexpected solutions you should know about. 
What is Shopify?
Shopify is an e-commerce platform that acts as a mediator between merchants and buyers. It helps businesses build a store and sell products online through the dashboard. Apart from trades on websites, blogs, social media, and online marketplaces, Shopify supports operations through points of sale at pop-up stores, markets, and retail stores.
Shopify was founded in 2004 and allows the creation of a subscription-based virtual store. It comes with numerous features and instruments including inventory management and analytics tools, so you get a turn-key solution with minimum effort. There is also a version for bigger enterprises, so even global leaders run their shops through this platform. The main advantages of Shopify include simplicity of use, thousands of customization tools to create a unique store, and 24/7 support.
Common Shopify problems and how to use them
Although many things can go wrong with your Shopify store on Mac, most likely you'll find a suitable solution in the paragraphs below. Read them attentively or save them for later not to miss a thing.
 The website doesn't open in Safari 
One of the most common complaints of Mac owners is that their website doesn't open in Safari while still operating on other browsers. Shopify customer support has even issued a quick guide on solving this problem. Here are the steps you can take:
Update Safari to the latest version because Shopify may work incorrectly on older releases;
Clear cache and cookies, and reboot the browser afterwards;
Switch to an alternative Internet connection. For example, cellular network or Wi-Fi;
Disable pop-up blockers or firewalls which may consider Shopify a threat. 
If you see that a separate page fails to load on your Mac, check whether the network connection is stable. Then, make sure that the liquid code in the theme is valid, as it is a very common problem, especially during peak traffic. When the problem is clear, go to Preview Theme in the theme editor and fix the arising problem. On the official Shopify forum, you can find plenty of examples and guides on how to troubleshoot this issue.
 Importing new products into the store 
Shopify tries to make the user experience as seamless as possible so that even new merchants fill their stores with goods in a matter of minutes. Usually, you just need to import your products through a CSV file on a Mac. However, several errors may interfere with the process. For example, lost data. In such a case, you need to regularly back up the information by using Shopify's Export feature.
Cross-platform product management 
Some businesses also find it hard to manage products across multiple platforms like Amazon and Facebook. While it is needed to engage more audiences, the process of control, inventory, and logistics becomes more than challenging. This problem is easily solved by using the Shopify app and its Manage Multiple Stores feature.
Duplicated content 
If Mac owners gave us one dollar for duplicated content, we would already be millionaires. It is one of the most common problems because a single item may have several indexable addresses. This problem is solved by de-indexing your store's pages, so that tag pages are not crawled by smart Google. If interfering with the code sounds complex, create tag collections to customize metatags, URLs, and content.
Redirection to an unsupported URL 
When a page is redirected to an untenable web address, check out if there is a redirect code in your Shopify theme. To solve this problem, make a few changes in the JavaScript code. If this sounds complex, contact Shopify's support or ask JavaScript experts to help. Fortunately, there are many thematic forums where coders can fix the issue for free.
Poor POS app operation 
If your Shopify POS app doesn't work properly, you should first ensure that the used devices are updated to the latest version – iOS 13 or higher. You should also enable multi-platform tracking in the settings because it allows third-party apps to connect with Shopify Inbox and POS. Just open the settings, choose the required apps and activate Allow Cross-website Tracking. Even if troubles with POS arise, you mustn't delete the app because you will lose all logs and saved data (shifts, carts, and so on). If the tips above don't help, contact the support team and let professionals solve the issue. 
 Incorrect website performance 
If we had to name one thing that influences success on Shopify the most, we would choose speed. You will probably agree on how annoying slow websites are. If you notice that your store is not running fast enough on a Mac, check whether some of the space-consuming processes and elements can be removed. Use the tips below to improve the website's performance and, as a result, to reduce bounce rates:
Delete redirected and broken links;
Limit pop-ups;
Optimize images and videos by reducing sizes and the number of thumbnails;
Utilize CDNs. 
Conclusion 
When running an online store, technical issues are inevitable. And the earlier you learn how to cope with them, the better. Above, we have discussed 7 common problems that Shopify merchants may face on their Mac. We hope that now you know how to fix the situation and help your store run without any interruptions and problems. Good luck!