Have you ever intended to build your own online business on Shopify but ended up having no money to promote it? Or are you having some problems delivering long content on your social media platforms? Then we'll give you one solution to your problem: Creating a Shopify Blog to reach 7 figures. 
Blog is an old term, but probably never goes out of style. In fact, 77% of internet users read blogs. That's shocking, right? In business, blogging is powerful, but sadly, an underutilized tool to attract, persuade and retain customers. 
In this post, we'll give you a thorough guide to building a Shopify blog strategy to grow your business. 
What is a blog? 
In short, a blog is a collection of articles on your website. Its content mainly revolves around topics related to your products and business. Some popular content angles include:
Inspirational stories

FAQs

How-to guide or Tips

Product review

Industry news

Funny posts or Meme
Why you should start a blog on Shopify 
We bet you are not fully aware of how just a combination of words and images can add so much value to your brand. If so, then keep reading to find out why investing your effort into a Shopify Blog is not a waste.
Blog posts help your website attract organic traffic 
You have built a great website selling quality products, but how can your potential customers come to your site among millions of others? One common answer of every store owner is Paid ads. However, paid ads are not always affordable and guaranteed success, especially for eCommerce newbies. 
With Shopify blog, you can leverage the power of keywords and optimize your site for SEO – all FREE OF CHARGE. If you provide useful and relevant content through your website, it will get indexed well and rank higher when customers search for keywords related to your business. Consequently, your chance of being found on the internet will increase. 
Moreover, once your visitors like what you write, they will share it with their network via social media or word of mouth. Either way, it will drive organic and sustainable traffic to your online store. 
The audience will have a better understanding of your business
Gone are the days when businesses only needed quality products or services to succeed. To survive and stand out from the competition, a brand needs purposes, stories, and a communication message. Adding a Blog section is one of the most obvious and genuine ways to show your brand's personality. 
Your blog's content may vary depending on the nature of your business and marketing objectives. For instance, if you sell healthy food and want to inspire your visitors, you can write about nutrition facts, tips for better health, or guides to a positive lifestyle. Meanwhile, if your products are complex like machines or electronic equipment, you should provide articles on how to use function the products properly. 
In short, an updated, relevant, and useful Shopify Blog helps people to know more about your business and consider your brand as a trustworthy one. 
Customer engagement is also worth mentioning
Typically, users will scroll through a website, drop in the middle of their journey before placing any order. 
A Shopify blog can prolong their time on your website. The longer they stay, the more likely it you can will turn them from potential to actual customers. You can also use a "call to action" button or anchor link that directs them to a relevant product page while they are immersed in your content. 
Another way to better engage with your customers is through newsletters or email subscriptions. Regular news sent straight to your email inbox is definitely a great way to keep your customers up-to-date with your latest blogs, promotions and other news.
Let's move further with our step-by-step guide to Blogging on Shopify!
How to start a Shopify Blog (4 steps)
Step 1: Set SMART goals
First things first, you need to determine what your goal when starting a blog on Shopify is. Is it to attract new visitors to your newly launched website? Or is it to communicate about a new project? 
Next, make sure your goals are clear enough for you to develop a detailed action plan. In short, you should remember the rules with the acronym: 
S – Specific
M – Measurable 
A – Attainable
R – Realistic
T – Timebound
Step 2: Develop a Content Plan 
Mapping out a content plan is the next step in realizing your dream blog. 
You may have different approaches to building a Shopify blog depending on your goals. If you want to attract more organic traffic, then including frequently-searched keywords will be a good idea. If you realize that customers need more information about your product or service, then having more how-to guides will be a bonus point.
Typically most sites will have a combination of several post types that serves different purposes. We recommend you brainstorm as many ideas as possible, then divide them into categories and give them an appropriate slot in your content timeline. 
Step 3: Add a Blog section to your Store
Now you have all the ideas, let's bring your Shopify blog to life. To get started, you need to add a blog section to your store so that visitors can find your blog. 
Bear in mind that you don't necessarily have to name the section "Blog", you can use other terms with the same expressions like Knowledge, Insights, …

Here's how to add a Section from your Shopify store backend 👇
First, go to your Shopify store, look for the Online Store section on the left bar, then choose Theme. Next, choose Customize.
Then you can click on the Add section button and choose Blog posts.
Great! Now the blog section is added to your store. Let's write your first blog. 
Step 4: Create your Shopify Blog Post
Go back to Online Store -> Blog Posts and choose Create blog post. 
Now you can fill in Title, Content, Featured Image, and customize other details to complete your blog. Remember to press Save when everything is done. 
Tips to create a highly engaging Shopify Blog
Focus on quality content and visual elements
The essence of a blog lies in its quality content and image. Besides relevant content in the body text, you should write intriguing headlines and intros that visitors can't help but click.  
Moreover, as humans are highly visual creatures, a blog with many appealing illustrations will definitely give a better effect on us. A better way is that you design your own images, to sum up or explain your points. Try to avoid the use of low-quality images as it will negatively affect users' reading experience and their perception of your blog.
Use internal and external links
Linking to other articles or pages on your website can help readers quickly reach other content in the same cluster they are interested in. In addition, when doing so, Google receives signals about the relationship between your pages and improves the indexing of your website. 
On the other hand, linking externally to trusted sources not only provide visitors with more resources to read, but also enhance your credibility. 
Promote your blog on social media
You can solve the content block on social media by adapting from your blog and having your blog promoted for free, killing two birds with one stone. 
Online communities like Facebook groups with people of the same interest are also lucrative land for you to share your blog posts and expand your customer base. 
Let's take a look at how Neil Patel leverage social media to promote his digital content
Optimize your blog for SEO
As I've mentioned, blogging is one of the best SEO tactics blogs. Here are some of our advice:
Do research to find out frequently searched keywords

Include relevant keywords in your writing

Create compelling meta descriptions to attract clicks

Remember to write subheaders to guide your readers
If you still don't know where to start with SEO, then Shopify SEO apps can be a great partner that can support you with all the related tasks. 
Learn from the brilliant ones
Knowing some outstanding names to learn from is never a bad idea, especially if you are just getting started. We'll provide you with some brilliant Shopify blogs by category:
However, it is paramount that you only notice their strengths and consolidate what you can apply to your site. DON'T COPY their content! Customers and Google bots both prefer authenticity, so using your own stories and voice is the best approach. 
Level up with Shopify blog Strategy Expert
Needless to say, the Shopify blog is a game-changer for every online business owner. Therefore, it is highly recommended that you take advantage of these our Shopify marketing expert to optimize your blog section. Check out our Shopify Agency and explain your needs right now. 
Final thoughts
It is undeniable that your business will benefit from a well-built Shopify blogs. In this post, we've provided you with the all necessary guidelines and tips on how to start creating engaging content on your website. We hope that now you are fully aware of the importance of blogging and will invest a substantial amount of effort into this part. 
However, there is no one-size-fits-all approach to building a successful blog. Learning from both success and failure may be the best guide for you to master the art of blogging.
Further reading 📚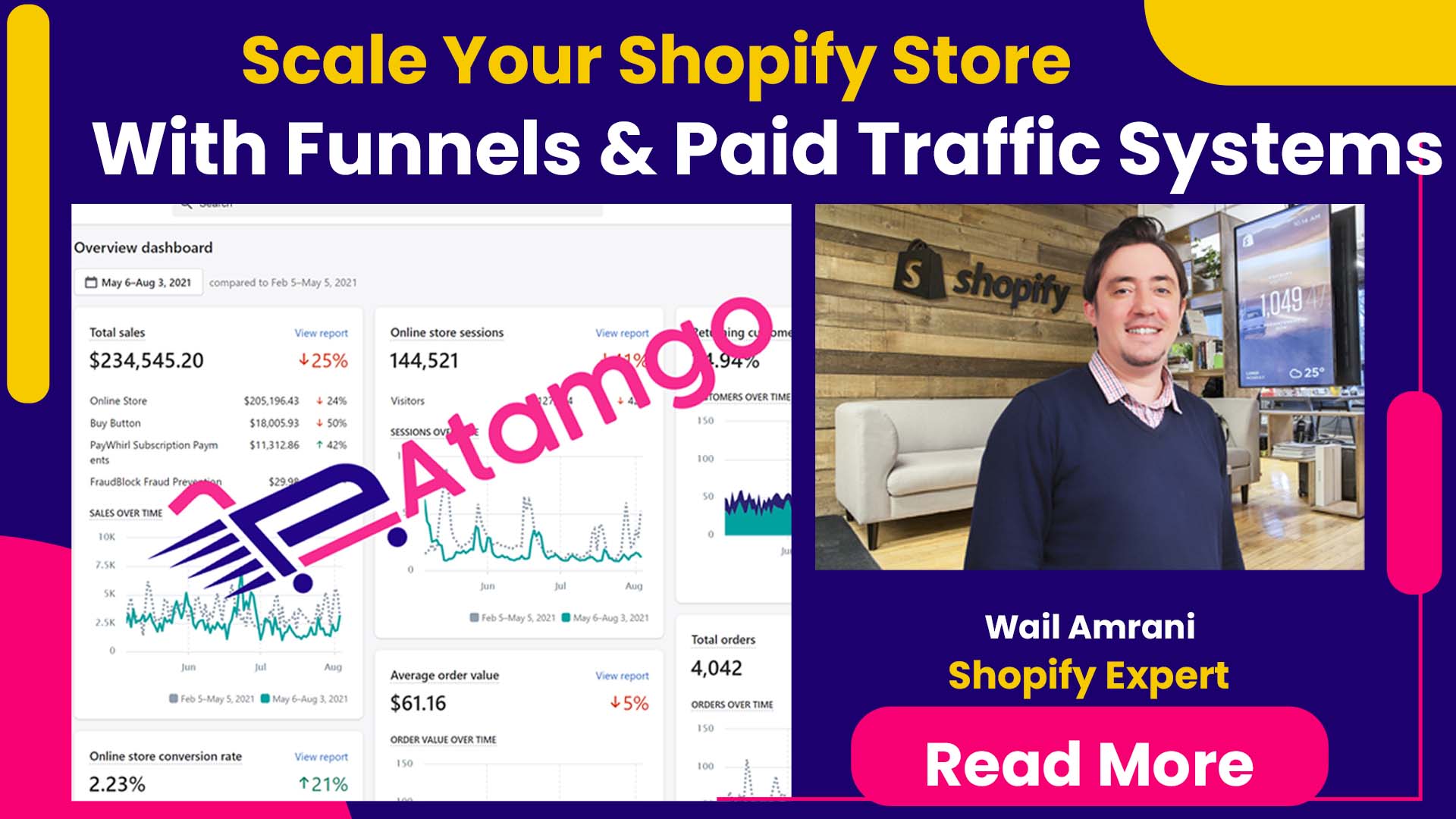 Author: Wail Amrani
Wail is a Shopify Expert & eCommerce Growth Consultant. Former digital marketing manager at Shopify I'm helping brands & retailers build 8-figure eCommerce. I've been leading digital growth for both online and retail brands for over 7 years.